With nearly 80 breweries around the state, New Mexico has become a celebrated craft beer center, "The Frontier of Beer," as the New Mexico Brewers Guild puts it. In the Santa Fe area alone, multiple award-winning breweries abound, serving a refreshing range of flavors, categories and ingredients that you don't find in your average ale. Some breweries even grow their own hops, expanding the farm to table approach to your very own glass. In order to help you find your favorite suds to sip, we've put together the SantaFe.com guide to some of the finest craft brewers in our city.
Santa Fe Brewing Company
The award-winning Santa Fe Brewing Company started things off more than 30 years ago. Today, it's the state's biggest craft beer producer, with year-round favorites such as Pale Ale and Java Stout, and famous flagships Happy Camper IPA and 7K IPA, New Mexico's top-selling craft beer. The newer Social Hour's popular too, with zippy tropical notes of pineapple, pink guava, coriander and mint, inspired by the Zombie cocktail. But this craft brewer doesn't rest on its laurels. Its busy brewing new beer, seasonal ale and limited offerings. Santa Fe Brewing Company even grows four varieties of hops by the banks of the Rio Grande in nearby Rinconada.
And now, the Santa Fe Brewing Company's got a new Krones 70-barrel brewhouse, which includes two 150 BBL. fermenters. This gives the brewery the capacity to scale to 200,000 barrels, so plans are in the works for new taprooms to open and  Santa Fe Brewing Company beer to expand its reach in New Mexico and elsewhere. For now, you can sample beer in four Santa Fe Brewing Company taprooms. Two are located at the company's headquarters and brewing facility, at the top of the Turquoise Trail — The Bridge, an indoor/outdoor venue hosting great live music, and the brand new  Beer Hall at HQ, a two-level beer hall with a spacious outdoor beer garden. You could also visit The Brakeroom in downtown Santa Fe and the Eldorado Taproom in Eldorado.
Rowley Farmhouse Ale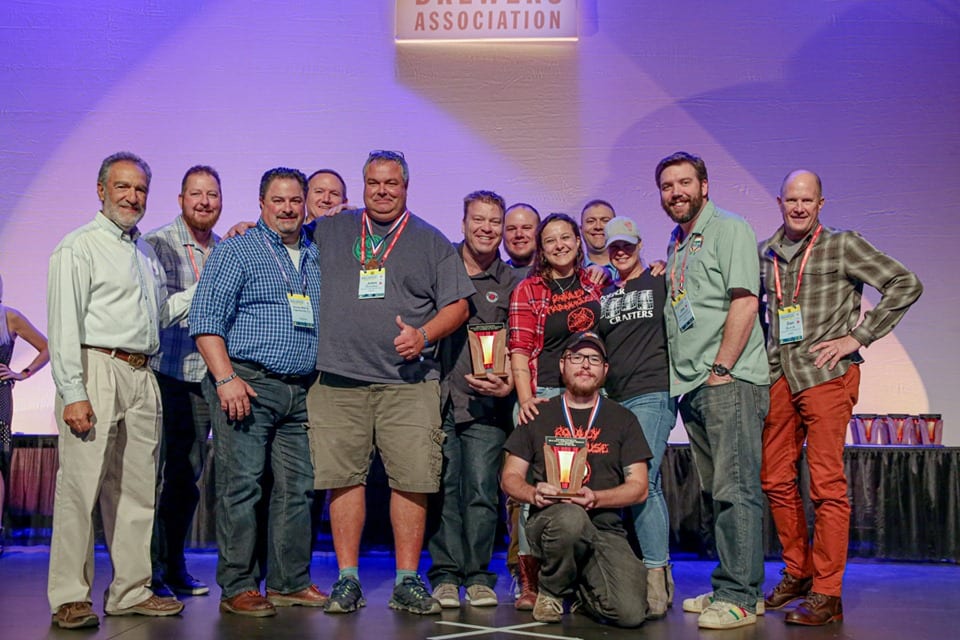 Relative newcomer Rowley Farmhouse Ales turned out to be the Most Medaled Brewery at the 33rd Annual Great American Beer Fest in Denver in the fall of 2021, picking up three medals. Some 2,000 breweries competed in this prestigious competition, and Rowley's Meier beer took home gold  in the German-style sour ale category. Agent Orange, Rowley's apple brandy ale, won silver in the barrel-aged sour category. Côte d'Or earned bronze in the mixed-culture category. On top of that, Rowley  was tapped as Small Brewpub and Small Brewpub Brewer of the Year, which is no small potatoes for a small brewpub that opened in 2016. The taproom/gastropub, with its laid-back, dog-friendly atmosphere offers a diverse menu of small plates, sandwiches, salads and comfort foods that pair well with Rowley's beer, including chicken and waffles, shrimp and grits and acclaimed New England clam chowder, made to order.
Tumbleroot Brewery and Distillery
The multi-talented Tumbleroot Brewery and Distillery not only turns out great craft beer, its spirits are pretty sensational, too, all produced in one southside facility on Bisbee Court that also houses an intimate tasting room. A lot of activity happens in that production space, but even more goes on at Tumbleroot's Agua Fria taproom, a rambling hang out that serves craft beer paired with crab cake sliders, dumplings, pretzels and more. Agua Fria taproom's live music shows often sell out. Tumbleroot just opened in 2018 and already its double brown earned a bronze medal, in the 2019 Great American Beer Fest's other strong beer category. Tumbleroot's innovative use of seasonal, wild and organic ingredients has won over beer buffs. Honey Hibiscus Wheat, for instance, is made with hibiscus flowers. The Farmhouse ale, brewed with locally sourced barley, wheat and rye, is made with organic hops lending floral notes. It's a fun place, designed for families with kids as much as for date nights.
Second Street Brewery
Second Street Brewery opened as a neighborhood brew pub in 1996, serving up live music along with handcrafted beer and pub fare. Today, the enterprise has expanded with two more locations, one in the bustling Railyard and the newest, Rufina taproom, in the Meow Wolf zone. No matter which location you visit, sample some of Second Street's favorites, including 6 Fruit Under, a light ale with blackberry, cranberry, tart cherry, raspberry, peach and blood orange notes, and Boneshaker Special Bitter, an English malt style beer with light citrus tones. Try the chicken mushroom schnitzel paired with the Agua Fria Pilsner at Second Street's original or Railyard location or pair fish and chips with a Kolsch at the Rufina Taproom.
Beer Creek Brewing Co.
Beer Creek Brewing Co. is another newcomer to the area's craft beer scene, but its owners have been making beer for more than a decade, having started as a backyard home-brewing outfit. They officially set up shop in an old stone building on Highway 14, south of town, and quickly became part of the brew-making scene, hosting last year's first annual Hoptoberfest, which pairs New Mexico's craft brewers with hop farmers for a day-long mid-October beer sampling event on Beer Creek's sprawling patio. Beer Creek grows its own hops nearby and its old-fashioned beers include its first, the classic Coming Soon Pale Ale, as well as Red Creek Imperial ale, and Lizard Queen Imperial Blonde, a collaboration with Tumbleroot. Beer Creek's beverages pair perfectly with its killer pizza, and it's a great place to tune in to live music.
Chili Line Brewing Co.
Chili Line Brewing Co. specializes in small-batch smoked beer, and its flagship beers — such as Que Pasa Pilsner, with notes of kumquat, orange, lime, and berry, and Que Picante Red Chile, with Chimayo-roasted red chile — have tapped into a big fan base. Founded in 2017 with just a single beer, Hefeweizen, the downtown brewery grew in size, offering live music and great pizza, as well as other fare. Chili Line has opened a new tap room out in Lamy, inside an old luggage storage room in the Lamy Amtrak Station. Live music's on tap there, too, as well as simple hearty fare. It's the perfect place to sip your beer on the patio and watch the Southwest Chief pull into the station.
Hidden Mountain Brewing Co.
When you see "Smokehouse Pit, BBQ, and Brew Adventure" as a brewery's tagline, you know there's something delicious going on there! Enjoy Hidden Mountain Brewing Co.'s barbecue and other delicious items from the menu, with indoor and outdoor dining, takeout, or curbside pickup. The tempting menu includes everything from salads to seafood to BBQ to dessert and cocktails. Oh, what about the beers, you ask? How about Hoppy Bunches of Oats or Good Life Dubbel? Their Gatekeeper IPA won the 2018 New Mexico IPA Challenge and they also offer a few gluten-removed beers. There are 10 beers on their menu and you're sure to find one to quench your thirst!
Written by Lynn Cline
This article was posted by Cheryl Fallstead