The Musical Mind of Boris McCutcheon
"Steve Earle meets Captain Beefheart, with a bit of Johnny Appleseed thrown in"
Boris McCutcheon is a man of the land. A farmer, the son of a farmer, and person who knows about crops, water, what to plant, where, and why – a humble off-the-grid working-class family man. He lives in a secluded valley off the High Road to Taos on a farm with fruit trees, chickens, dogs, feral cats and an occasional bear in his front yard and elk in his back yard. Visit him there and you'll new exactly what his song "Bad Road, Good People" is about.
He is the majordomo of the valley, struggling to keep the small ditch running throughout the valley, making sure everyone gets a fair share of the water. He is not only a strong proponent for water rights, he's a man who will not avoid conflict if it means the right thing is getting done. He is also a songwriter of incredible depth and honesty.
This interview actually began backstage at FrogFest Six on Memorial Day weekend, stagnated for a few months, continued a few weeks ago in his house and car (with his kids) and while taking a walk around his property -- and ended late at night after a recent show over a few beers in my living room. I may not know Boris better than everyone, but you'll know him better than you do after reading this.
Boris grew-up in New England and attended college in California. His family dates back to the Mayflower – there have been McCutcheons in New England since before this country was formed. His musical roots go back pretty far too – his grandmother was a soloist in the Boston Symphony. It's almost like the history of his family is the history of America. He has a wife, Laura, and two "free range" children; Neve, 5 1/2 and Jack, 3 1/2. Boris plays as many shows as he can to help feed his family.
His was one of the first few records ever released by the Frogville Record label, and he's been recording at their studio even before it existed (while it was still John Treadwell's living room). Plus, Boris has played every Frog Fest ever held.
His bio states that his music "…crosses class and genre boundaries and appeals to a wide spectrum of ages, tastes, and political orientations. He works the land…and faces the daily struggles of how to make money to sustain a family, and more importantly, how to live right." You can hear all of this in his songs.
The new England Music Scrapbook News began their review with "…(Boris) knows hay from straw…His brand of roots music is heartfelt – from the unhurried ballads to the rocking number and rollicking ditties – with melodies that get stuck in your head."
In the Netherlands, a reviewer wrote: "En Boris is King".
He's won the Boston Music Award for best male vocalist, the Mountain Stage New Song Contest Southwest Regionals, the New Mexico State Fair Best Singer/Songwriter contest…so why isn't he playing bigger rooms and getting more radio play?
One bright, sunny day, I took the long, twisting drive to Casa McCutcheon, and joined Boris for a day in his world. We were soon sitting at his kitchen table, eating the lunch that he made for us, talking about a show of his that I'd seen a few days prior.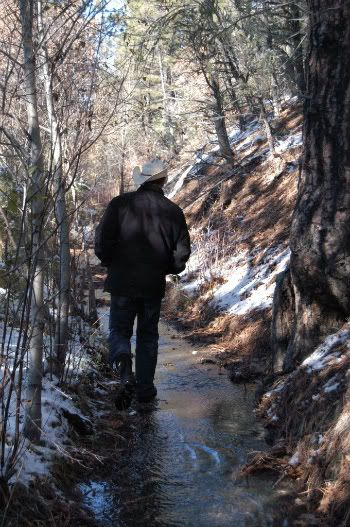 (Caption: Boris walks the "Ditch" behind his house.)
​SantaFe.com: At the recent Townes Van Zandt Gospel Brunch at the Cowgirl, you tackled "Waiting Around to Die." Nobody usually likes to touch that one. Why did you choose it as part of your set?
Boris McCutcheon: But everybody knows that one. That's why I did it. You have to have something familiar. I decided to do mostly obscure Van Zandt stuff, but you gotta have something for the fans.
SFDC: Did you ever see the movie "Heartworn Highways," where Townes is singing "Waiting to Die," and the old black man in the background starts to cry while he's singing it?
​McCutcheon: Yeah, I saw that (at) the "No Depression" party one time at the Americana Conference. They had this party the night before…and there were all these heavy-hitters there…Steve Earle….I went over and shook his hand and told him I'm a big fan. He said "OK." I did a lot of Steve Earle songs (back then) but I stopped, because people thought I was trying to sound like him, so I stopped. I used to do some Lucinda Williams too, then I noticed that EVERYBODY was doing Lucinda Williams covers. But I was doing them before she got on the radio. It's always like what I've experienced, you know. Lucinda Williams is like that. She's not full of shit.
SFDC: Yeah, right. When she sings about ex-boyfreinds…you KNOW them. When she says "you took away my joy," you know what that feels like. How about Gram Parsons?
McCutcheon: I like Gram Parsons a lot, but he's harder to pull off because he's got a really good voice, a high tenor, so he can sing really high. So in order for me to do those songs I have to bring them down to a different key. I mean (Gram) was a really good vocalist, man, and Townes Van Zandt wasn't a very good vocalist. In his early years he was, but he got really into glue and booze for a long, long time you know and drunk, whatever he could find. You can hear his voice really suffered because of it.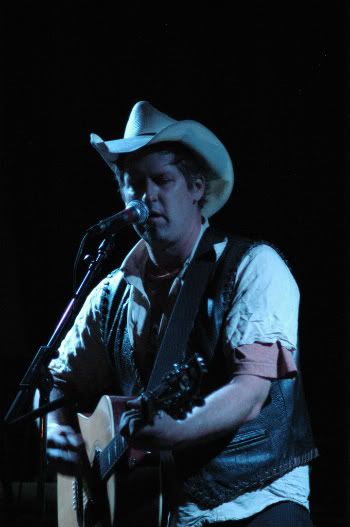 (Caption: Boris at Frog Fest Six)
SFDC: That legendary rushing to the graveyard cliché.
McCutcheon: Right. Yeah. He was Catholic, and Catholics can't kill themselves, it's against their religion right? So they do the Jack Kerouac thing – they just drink themselves to death. I would love to do a Gram Parsons deal (but) there's just something more gospelly about Townes Van Zandt though, I think. You know I was trying (come up with songs) to do at a Gospel Brunch…Townes Van Zandt songs kinda sound like mountains or churches…there's just something really spiritual about a lot of his stuff and it just hits right to the bone, you know?
SFDC: That's a very good point.
McCutcheon: And the same thing goes for Bob Dylan. Dylan has a lot of gospelly stuff and he doesn't really over-sing. That's why everybody covers Dylan, 'cause Dylan's just so stripped down when he sings it… he's "no frills."
SFDC: And it's easy to make it your own. There's a lot of obvious Dylan songs for a Gospel Brunch like "Serve Somebody," but some of his less obvious ones have some deep, deep messages.
McCutcheon: Uh huh. But I think only he knows what that message is. Bob Dylan is a fictional writer.
SFDC: Right he creates characters.
McCutcheon: He writes fiction, whereas Towne Van Zandt, he's talking about himself, man. I'm good at writing about old people that pass away and stuff like that and how important they were, but just kind of pulling something out of left field…out of my left brain…and kind of creating this fictional thing, no.
SFDC: It's two different schools.
McCutcheon: Yeah…it's two different schools and I kind of relate with the experience…the existential…I don't know. Or maybe it's not the fact that you're being a phony, you're just a writer, I guess, and writers…that's the whole thing…their empathy…they can get under somebody else's skin, and in their shoes, and feel...you know…like a farmer from Illinois. But me, I've never really had that skill.
SFDC: One of my favorite songs of yours is "Boxspring Plow." I know it's a REAL story. I know you had to do that. I can see it in my head…you taking a boxspring and putting it on the front of your vehicle…I can see it…you made me see it.
McCutcheon: (Laughing) I've gotten a lot of mileage out of that song…and that plow…
SFDC: Dylan's always said (about himself) that he's just a clown, just a performer.
McCutcheon: I like the accessibility of Townes Van Zandt. I understand what he's getting at. And he was a deeply poetic guy and you understand what he's getting at man, and its not like this...Dylan was reacting, he started out really political and just kind of copping Delta blues songs and then the Movement took a hold of him…"Oh now Bob Dylan's our mouthpiece…he's gonna speak for the (people)"…and (Dylan) was like "No way guys"…and that's when he went totally surreal and you couldn't decypher his lyrics...and he did that on purpose, man.
SFDC: It killed Kurt Cobain much later, that same kind of concept. You get that mantle thrust upon you ….
McCutcheon: Right. What I'm saying is that sometimes, even though I love Dylan's tunes, sometimes the meaning of a lot of it is hard to pinpoint. And that's why I like Townes, and that's why I like John Prine because you always know what John Prine is talkin' about. He's funny, you know, he has this depth to him.
SFDC: He's sometimes pretty dark.
McCutcheon: Yep. Real dark….but, you know, Van Zandt was definitely the darkest of the dark. And doing those Van Zandt brunches, it brings out people that are kind of going through this process of grief. I noticed there's a few people that came out that had just lost people. One guy, he kept coming out, kept coming out to every one, kept buying me beers, and I sat down with him. He's like: "Yeah my brother really liked that song." "What happened to your brother?' "Oh he died, he died two weeks ago and he was really into Townes Van Zandt." You know, real heavy stuff at those shows man. Really heavy. you know? And I would just look out and see people were really, really…into it man. Like more than me just doing my own stuff. I've seen that too. But there's just something special about it…I really, really liked it. I wish we'd recorded it. There's gonna be more of them. We're gonna do it in February. We're actually gonna do a Van Zandt circle up at the Taos Inn with a couple other songwriters, with no band.
SFDC: That should be fun.
McCutcheon: The stuff I listen to is usually pretty sparse. I like really sparse recordings, but when I go into the studio I bring a full band. You have to be careful not to get too caught up in trying to "rock out." That's what really hit me about the Townes Van Zandt brunches…you don't have to…"rock out" all the time to reach people...
SFDC: It seems to me that you've achieved what you've been trying to achieve…and that to me makes a real artist. You have a vision and you've communicated your vision to the people that are experiencing your art.
McCutcheon: (Joking) People that need a pony ride. (Referencing one of his "lighter" songs – "Pony Ride").
SFDC: (Laughing)…once in a while you have to write something that's fun and loose. If you're always singing about doom and gloom, it's hard to live THAT career…and we're back to Townes again…but with your material, the listener feels the songs, you don't just listen to them…
McCutcheon: Yeah, you feel them…right…it's all about feeling…yeah.
SFDC: Too many (performers) don't understand that…they don't say anything… they're just songs…which is nice…and radio (stations) play lots of them.
McCutcheon: And there's a lot of folk festivals all across the nation that feature people like that…razzle dazzlers…you know. They pick the hell out of a song, but what do they gotta say? Are they just feeding the crowd just what they want to hear? Or are they actually being honest with themselves and presenting something vulnerable and kind of new to the crowd….you know what I'm saying? That's what's hard to do man. Take the casinos for instance. If you go play at a casino around here, you'd better know some Stevie Ray Vaughan covers or you're gonna down in flames, man.
SFDC: And ZZ Top, Santana….I've lived around here long enough.
McCutcheon: It's the same at folk festivals. People that go to folk festivals, they expect roses to shoot out of your ass onstage….
(Caption: Boris & The Salt Licks at Frog Fest Six)
SFDC: Tell me more about your appearance recently at the Moab Folk Festival.
McCutcheon: I had a really hard time figuring out what to play (there) because I wanted to stir things up a little bit and play some darker more guitar heavy ballads. But I also wanted to keep the positive spirit going….not leave people with a death ballad.
SFDC: Speaking of kind of dark songs, tell me about the song "Lee Harvey" on your "Wheel of Life" CD.
McCutcheon: "Lee Harvey" was written by a guy named Homer Henderson from Dallas Texas. I think its one of the best songs of the 21st century.
SFDC: I love the way you do it. Its an interesting perspective. It tells a really interesting story. You made it your own, in that version of it.
McCutcheon: Well you know I never heard anyone do it before. David Bindler, this guy who grew up (in Texas), who actually knew Homer Henderson….I think he may have even gone to school with this dude. When I had a band before the Salt Licks in Santa Fe, I had a band with David Bindler, and he was the front-man for the band, even though he has the drummer. He picked the songs, he booked the shows, he did everything. I was just there singing. He would tell me what to do. I had never been in a (working) band before. I had been in a lot of bands, but we just practiced. We never played out. It was one of the first songs he showed me how to play …"Boris, we're gonna play 'Lee Harvey' did you ever hear that song?" "No I haven't, Dave." "It goes like this: Lee Harvey was a friend…". He showed me how to play "Lee Harvey" on the electric guitar. I never heard anybody do it but Dave. And the Dutch love that song. The first time I played it they went crazy. I was like "I hope they like this one"...and they really liked it over there.
SFDC: So you cover "Lee Harvey," you told me you do a few Springsteen songs…Townes…Lucinda…who else's material do you do on stage?
McCutcheon: We do Tom Waits…we do a version of "Chocolate Jesus." We've always done that. We've rocked that one out for years. We do some Leonard Cohen.
SFDC: Oh, right, "Suzanne" is on the new "Utrecht" CD.
McCutcheon: It's a song I've always done. I remember when he first came out with "Tower of Song." That was back when I was 18. Iit was an amazing album. (I also like) "First We Take Manhattan…Then We Take Berlin." And "Everybody Knows"….it was a fantastic album.
SFDC: You also said you were a fan of Captain Beefheart. Have you ever pulled any of that off live?
McCutcheon: I listened to a lot of Captain Beefheart in college….King Crimson…. I would kind of dabble in that stuff. I liked it, but I was always more into the songwriters like Leonard Cohen…crazy songwriters….(like) Townes Van Zandt….but I didn't start listening to him until I went to Holland. Somebody told me I sounded like him, so I bought all the Townes Van Zandt CDs.
(Caption: Boris at the Van Zandt Gospel Brunch at The Cowgirl)
SFDC: Speaking of Holland, how have some your experiences touring been?
McCutcheon: The most I've ever been out on the road was two months with (Salt Lick multi-instrumentalist) Brett Davis. We did two weeks on the Cape (Cod), and then we went over and did a full-band thing in Holland, and then we went and toured with the Hansen Family all through the UK. All over the place. That was about two months, man, and that was a long time, because I had a little girl coming. That was before Neve was even born. My wife was about ready to pop. I came back two weeks before her due date. But to me, you know, I always hear these stories about these horrific rock starts that were horrible fathers, terrible family people, you know, and I never wanted to be like that. (II thought) why can't I play music and have a family too? What's so hard about that? So that's what I did man, even though my former manager wanted to like stab me with a Bowie knife for wanting to move back out here, like lawyers and shit like that. Yeah, it took me like five years to pay her off. Yeah, man, I just always felt like if you didn't live your music you were a phony, you know. And that's what I've always thought.
SFDC: That's a good way to look at it. You've gone back and forth to Boston and Santa Fe a few times. Why all the moving?
McCutcheon: (After a bad break-up) I ended up back in Massachusetts. I lived on my parents' island for two months…
SFDC: Tell me about your parent's island.
McCutcheon: In the town of Gosnold, it's a string of islands. The first island is connected to Naushon. My folks have been the caretakers for the Naushon Trust for 30 years. They moved out there when I was 18. (my mother) is the island historian. My family is related to the Nyes….Alexander Nye was one of the first people to live on the island, and married a McCutcheon. My family has been (on that island) since the 1700's. My dad has a market garden out there. He sells vegetables. He's been farming out there forever. And my mother takes care of the horses, sheep, and cows. It's kind of an idyllic setting. It's owned by a trust of hundreds of different old, blue-blooded New England families like the Forbes, Emersons--Ralph Waldo Emerson's (decendants). Walt Whitman I guess used to come out there. I think Thoreau even came out there at one point. None of the people who own a share in the island live out there year round. There's a community of caretakers that maintain this island. My parents are (part of this community). I was one of them too for a while. The kind of jobs you have are like you're the deckhand on the private ferry, work at the boatyard, scrape barnacles off the boats…
SFDC: These are the vacation homes for the trust folks?
McCutcheon: These old, old houses, they're really old buildings that have been there for a long time. These families have 100-year leases on these houses and they come out and pay the trust to stay there but they're not necessarily rich. But they're in the family…just middle-class…but they're very educated. Harvard professors, like the Thoreau branch of the blue bloods. They live simply out there…nothing (ever) changes. It's very cool because of that…totally undeveloped.
SFDC: And so that's where you grew up?
McCutcheon: Since I was 17 1/2. Been going there off and on. It's not as easy now to go back. It's the only virgin beach forest left on the eastern seaboard…virtually the same as when the Indians used to vacation there in the summer. It was like a vacation fishing ground for them. But it's a good place to go back and get your shit together. That's what I've done over the years …I've gone back whenever I've had no direction, and felt lost with what the hell I was doing in my life and needed to tap into some kind of spiritual meaning…something….that's where I would find myself….gallivanting over the frozen swamps. So, yeah, it's a tremendous place. I've written many songs about Nashaun island and all the colorful Cape Codders that know about it. Yeah, that's where I went when I turned 30. I went back there and I didn't leave the island for two straight months. It was one of the coldest winters they'd ever seen out there, so all these swamps were frozen (and me and my dog would) roam around on all this black ice. And then I went over and started running open mic night at Captain Kidd's which is one of the most beautiful bars in Cape Cod. It's an amazing place. I ran open mic there for 4 1/2 years. I met my wife there. She was a scientist with at the MBL. She just kind of came down one night to see what kind of freaks were at the open mic, just to, as she puts it…she wanted to come down to "laugh at the locals". And I was there that night playing...
SFDC: And that was it?
McCutcheon:/strong> Yeah, we started hanging out. I think we went squid fishing the following week off the dock. I took her out to Utah. We went camping for a week. She decided to move out there and I stayed in Boston, so we had a long-distance relationship for a year and a half.
Her living in Utah is how I ended up playing the Moab Folk Festival. Then we met up and lived in Albuquerque and got married in Penasco down the road and here we are. Lately I've been kind of getting the "Cape Cod Feeling" again.
SFDC: You need a return trip?
McCutcheon: Yeah and its harder to go back now because I have kids. Every now and then I really, really miss the Cape.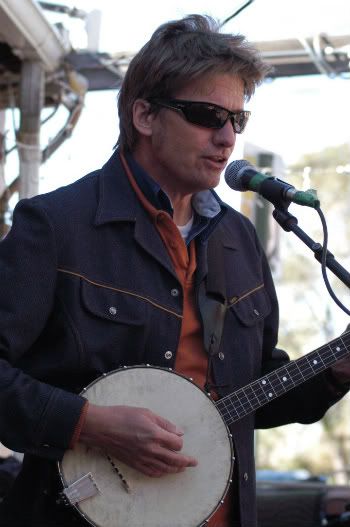 (Caption: Brett Davis at the Van Zandt Gospel Brunch at The Cowgirl)
SFDC: Back to playing live -- what was the biggest audience that you've played in front of over the years?
McCutcheon: I guess that would be a toss-up between some of the festivals in Holland and the Botanical Gardens or the Civic Plaza in Albuquerque when we opened for Asleep At The Wheel.
SFDC: Your band has had pretty consistent membership for a while. I know you said you've been with Brett forever.
McCutcheon: Brett Davis...I was hooked up with him through (the wife of a guy I was playing with at the time). He came over for a jam one night. I met him then and we've been playing together ever since. I saw Brett play and thought "Jesus, you're really good." He's the longest, but I couldn't lure him. I went back to Boston. I'm ready to dedicate my life to music. I don't care if I have to eat Ramen noodles, couch surf, do whatever I can, dedicate my life to the music. So I went back, but couldn't lure Brett to Boston. I landed a job (that) paid a lot of money. So he came out one day, we drove around Boston, I was driving like a maniac because that's how you have to drive around Boston. Brett's like "I don't think I can handle this dude, this is crazy, man" and he went back to Santa Fe and I thought "what am I gonna do, I don't have a guitarist?" So I hooked up with this (guitarist) (and found a drummer) and all of a sudden I was forming the Salt Licks without Brett and my roommate I was with, I was crashing on his couch at the time, he just happened to have this bass in his closet and I was like "dude, can you play this thing?" And he's like "I could learn." So he was the bass player, he'd never played bass before, he (practiced) every day, he was a maniac and we started doing lots of shows around Boston.
In the mean time I had this sweet honey out here. I didn't want to be in Boston anymore. It was kind of stifiling there, really shallow folk music. It was just not a scene I wanted to be part of anymore. I was kind of peaking out on it. I wanted leave it while I'm on a high-point, so I packed-up shop and moved back here and I tried to get the band to move back. Nobody (in my Boston band) was in love with the desert like I was so I had to start from scratch…except for Brett Davis, who was already here. When I met Brett Davis, he turned me on to country music, he turned me onto Buck Owens, The Louvin Brothers, The Dellmore Borthers--so much different music. Brett Davis kind of educated me in music. He's kind of a scholar of American History and the history of American Music. He's always been the kind of guy that roots for the underdog. He studies people that didn't make it big for some reason, which is kind of a New Mexican tradition--self-sabotage, just when you're about to make it…very New Mexican.
SFDC: How about Susan (Hyde-Holmes)?
McCutcheon: Well, Brett was Bill Hearne's roadie on the side to make money. At that time, Susan was playing bass with him. I went out to see them one night and that's where I met Susan. She started playing with me a few months later.
SFDC: And Kevin (Zoerning)?
McCutcheon: Kevin produced (my CD) "Cactus Man." I recorded "Cactus Man" twice, the first time in a living room pretty much over a series of a year with a friend of mine at his house. But we had a falling out, so I pulled the plug on the whole thing then went in (the studio with Jeff Berlin, who flew out from Vermont) and boom, boom, boom…we nailed everything on the album in a first or second take. It was kind of a mystical weird magical album.
SFDC: And Paul Feathericci, your drummer?
McCutcheon: Drummers have been kind of a weird thing for me since I've been back. I've been trying to do it as a trio (to save money). Susan is such a strong bass player and so rhythmic and I'm pretty rhythmic too, so that's all we need. And if we really want to jack it up a little bit and really get people dancing, we bring Paul in, But then we'll get a gig when they want everybody. They want a whole band, like the Blue Highways Festival in Utrecht.
SFDC: And what about this new album you're working on. Are you gonna do it with the full band?
McCutcheon: Yeah, this album is the first time I've ever tried to record everything live at once, everybody in the same room all at once. My idea is to go in for three days with the full-band then overdub the backing vocals…maybe get a pedal steel player, maybe some horns, and I'll do a few songs-- just me…..playing guitar.
I'm very, very, very, very lucky to have the people in my band (that I do). I just wish I could take them to a bigger circle because they deserve the best. They are really, really top-notch players. We've recorded for 14 hours already.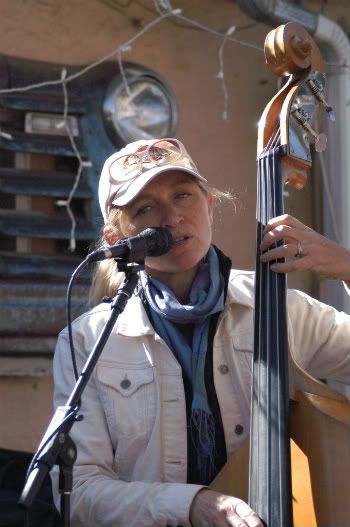 (Caption: Susan Hyde-Holmes at the Van Zandt Gospel Brunch at The Cowgirl)
SFDC: So you're already knee-deep in it?
McCutcheon: We've already recoded about nine songs. We almost have enough material for an album. I'm not saying we're almost done. I made a decision early on that we were going to do this as a band, live, and it's so hard to line up six people's schedules. It's really difficult. So, in a way it's kind of good because I don't feel rushed about this album. Every other album I've done, I've really wanted to get done in a week…over and done with. With this one, I'm taking my time and not pushing it. I just want it to kind of find itself…find its own vibe. That's kind of how "Cactusman" evolved, too. We were messing around with different versions of the songs…slower, faster…2-step versus a 4/4 thing…just going back and forth, so by the time Frogville came around I really had a definitive angle for the whole thing. I want this album more like that, and it's the first album I've done with everybody in the same room.
SFDC: The new big room at Frogville Studios makes that much easier too.
McCutcheon: I've always done it, either by myself ,started out the song and have people play over me. That's how I did "Mother Ditch,", which had problems because of that. But that's why it's a folk album--because I started out with me and a guitar and then I brought in people. That's what a folk album is. The guitar is central, but later as I went (along) I always recoded drums and me. That's the way I've always done it. Just me and drums….and then if somebody else wanted to join in, fine (record and) isolate them. But everybody was isolated. I've never done it without everybody isolated and so this is pretty exciting to have everyone (in the same room). What I discovered from doing it that way… say you do five takes of a song live with everybody in the same room. If you don't like the way you sing it on this chorus but you like the chorus on the third one, you can just take that out and stick it on the other one because you have everybody playing at once. You can just take a piece of that, as long as you're on the same tempo.
SFDC: Recording digitally makes that a lot easier than it used to be.
McCutcheon: What I've noticed about recording as a (band) and all looking at each other…the eye contact…there's no delay. Also, there's this new excitement because you're in the same room with these people that you always play with live so we have some really great takes. I thinks it's gonna be a really cool, really fun album. I just need to get Susan, Brett, Kevin, and Paul singing. I wanna get some (background vocals down). I also wanna get Bill Palmer to play some guitar. He played guitar on " Cactusman" and some other stuff.
SFDC: He plays some tasty stuff.
McCutcheon: (To his daughter, Neve)….Guess what Eric is doing right now? He's writing a story about Boris and the Salt Licks. We're talking about all the people in the band. Who is your favorite person in the Salt Licks?
Neve: Pauly.
SFDC: (Laughing) Girls and drummers, I don't know what it is….
McCutcheon: He's a pretty fun guy isn't he?
Neve: Yes, yes. I like his dog too. His name is Elliot.
McCutcheon: Paul is the most entertaining drummer I've met. Have you ever seen his face when he plays? He's another guy with a huge heart….really, really funny to watch playing the drums. He's kind of muppetish. Brett and I kind of have the serious poker face. Susan always has a smile. Kevin has got some kind of look of bliss on his face, so does Paul. They're the "Bliss Twins."
During our time together, Boris revealed himself to me as not only a great songwriter, and true artist, but as an honest and open person of the highest caliber. He summed up his love of his art this way: "Music brings people together who wouldn't normally hang out. I like that about music." And, "If you don't like the music that you play, you're just a phony." There isn't much else you need to know about Boris. Go see him perform sometime -- he's got a big show on December 22 at Vanessie of Santa Fe – and you'll be converted as I was.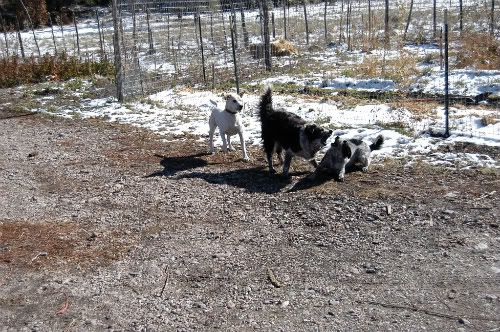 (Caption: The McCutcheon Farm Dogs in front of the orchard)
All photos by Eric Davis