Independent Streak: The 2011 Santa Fe Independent Film Festival
In its third year, local indie film fest showcases emerging filmmakers, Santa Fe


"They're gonna put me in the movies…" Buck Owens
I recently met with Executive Director Jacques Paisner and Programming Director David Moore in the new Santa Fe Independent Film Festival offices to see what they're up to for this year's festival, held October 19-23. This is the third year that they've produced the fast-growing event, which was founded on three worthy principles: Support the Arts. Build Community. Invest Locally.
Each year, the festival designates an overarching theme, with this year's focus on social justice as portrayed through poignant films on community, veteran affairs, cystic fibrosis, cancer and environmental justice.


The festival was formed in 2009, when Jacques and David, who were working together on a film ("Rejection"), noticed a dearth of events showcasing homegrown indie films. "It was a reaction to what most major film festivals have become – too big to deal with the best of the truly independent films that are produced each year," said Paisner. Small films need support, too, said Paisner, and the Sundance Festival and others have grown too unwieldy (and celebrity-centric) to properly feature small-budget films, which often have the potential to draw loyal and sizable audiences.
"We love Santa Fe and we love movies – it seemed to be a perfect fit," Moore added. "SIFF exists to serve underserved filmmakers and audiences."
The venues for this year's festival include Warehouse 21, The New Mexico History Museum Auditorium and The Lensic Performing Arts Center – all great places to see films.
This year's festival also includes a packed schedule of special events, including an opening night gala at 7 p.m., Oct. 19, featuring a free screening of the 1951 Billy Wilder classic starring Kirk Douglas, "Ace in the Hole," at the New Mexico History Museum Auditorium. The film is part of this year's slate as a reminder of New Mexico's longstanding tradition of movie-making, as the action takes place outside of Gallup.
Over the course of the event, the festival will screen more than 100 films from filmmakers from around the world. Here are some highlights:
Friday, Oct. 21 at the Lensic features a screening of "This Film is Not Yet Rated," the acclaimed Kirby Dick's exposé about the American movie ratings system. The film will be introduced with an introduction by the director himself.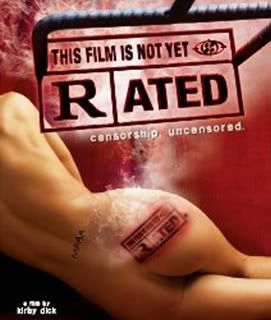 Saturday, Oct. 22 at the Lensic showcases the festival's second gala screening, "Bombay Beach," which features the music of Bob Dylan and band Beirut, which was formed by former Santa Fe residents.
This year's festival honorees include Kirby Dick (director, producer, writer); Tony Mark (executive producer of cult favorite "The Fisher King," producer of Lifetime's "Georgia O'Keeffe," and more recently, Kathryn Bigelow's "The Hurt Locker" -- which received nine Academy Award nominations and six Oscars); and Santa Fe resident Alton Walpole, an eclectic filmmaker with more than 30 years of experience as an editor, cinematographer and producer, and who most recently served as unit production manager on such films as "The Spirit," "Crazy Heart" and "The Book of Eli."
The festival also features a series of daily workshops, held by leading authorities in the film industry. Oh yeah, and there will be nightly parties. For a complete schedule of events, visit the website.
"We feel the festival is on a great trajectory, snowballing, and Santa Fe can rival Park City," said Paisner, referring to Park City, Utah, the home of the Sundance Film Festival. "We are bringing what Sundance was in the '70s to Santa Fe, now. We also believe that SIFF is a vehicle to extend the tourist season into October. We're giving tourists and film buffs a reason to come here during this slow tourism time of year and bringing additional support to the local community."
The festival continues to grow and expand. This year, it is screening more than 100 films (some 75 shorts and 25 features), up from 80 last year. It continues to receive submissions from filmmakers throughout the globe. Earlier this summer, the organization moved into a new office space in the historic Lensic building in downtown Santa Fe. And the organization boasts a growing cadre of dedicated volunteers and a dynamic advisory board, made up of award-winning filmmakers, community activists, poets, actors and a local high school student.
"We've been getting great feedback from previous years – filmmakers and the community have been very supportive of what we're doing – producing a great festival that supports the growth of up-and-coming filmmakers and keeping it fun," said Moore.
The festival is a growing financial success, added Paisner and Moore. Paid attendance is roughly 3,000, with sponsors a big part of the picture. Sponsors for 2011 include KUNM, SantaFe.com, Cowgirl BBQ, The Santa Fe New Mexican, La Posada, The Lensic Performing Arts Center, Warehouse 21, Bishop's Lodge, The New Mexico History Museum and The City of Santa Fe Arts Commission.
While deeply absorbed in the logistics of putting on of this year's festival, Paisner took a moment to comment on the future. Paisner and Moore have big plans for the festival and want to see it continue to grow into an autumn institution for both film lovers and the city of Santa Fe. "We present an exhibitor platform for indie cinema and support the local economy while we're doing it and we want to keep growing to support both." said Moore.
"We serve the Santa Fe community, and are active in all social facets of the Santa Fe area," added Paisner. "We feel that we promote artists, local businesses, issues of importance. But to get where we want to, we need time, effort, love, networking, and a little luck. The festival is an effort to help keep our city viable for indie production and exhibition. It is an opportunity to do something new that no one else doing. We love movies, and as a film maker it is rewarding to feel the love from the filmmakers and audiences at our festival. Santa Fe is an art town and film is art – we need to keep art in Santa Fe because we love Santa Fe."
Here are some films I won't be missing at this year's Santa Fe Independent Film Festival:




"Bombay Beach" -- winner of the top documentary prize at the Tribeca Film Fest &ddash; which, as mentioned, features music from Bob Dylan and Beirut. This is a beautiful, quirky, and ultimately very moving film about the American Dream as it teeters on the edge of a desert sea. The rusting relic of a failed 1950s development boom, the Salton Sea is a barren Californian landscape often seen as a symbol of the failure of the American Dream. A sea in the middle of the Colorado desert. First-time director Israeli Alma Har'el visits this poetically fruitful terrain in this distinctive documentary, and finds there a motley cast including a bipolar seven-year-old, a lovelorn high school football star and an octogenarian poet-prophet. Together they make up a triptych of American manhood in its decisive moments, populating the Salton Sea's land of thwarted opportunity.


"White Knight" -- Leroy Lowe (Tom Sizemore), grand dragon of the Texas Ku Klux Klan confronts everything he's been taught to hate when he's sentenced to three years of hard labor on a prison work farm, where Warden Merville (Stacy Keach), dead set on rehabilitating Leroy, chooses Emilio (Hector Jimenez), a Hispanic field worker imprisoned for fighting for labor rights, to be his cellmate.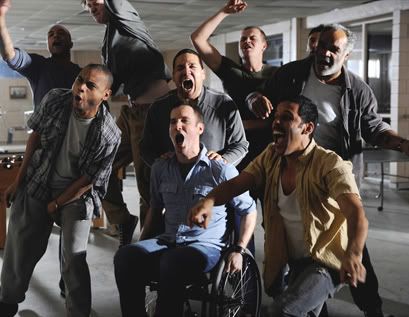 "Happy New Year" – similar in theme to "Born on the 4th of July," it is the story of a returning four-tour vet, and his experiences in the PTSD Ward. Powerful, poignant, and unfortunately very relevant, focuses on Sgt. Cole Lewis, who has been mentally and physically scarred by his time served in Iraq and Afghanistan. He finds humanity, compassion and friendship in a group of similarly injured veterans in the psychiatric ward at a remote Veterans Hospital. The group, ranging from guys left behind from WWII and Vietnam, to those recently injured in the Middle East, slowly becomes Lewis' new family. Along with them, he will attempt to redefine his sense of self, and find a new place in the world. Through humor and pathos, Lewis becomes a ray of hope in the ward, as the men find a way to combat their post-war grief. However, just as their luck starts to change, Lewis soon faces his fiercest battle yet.




"The Encore of Tony Duran" -- a New Mexico Premiere. Tony is a singer washed-up 20 years ago: fat, drunk, broke, and unemployed. He turns to crime to turn a buck, and proves incompetent even at that. Finding a path of human transformation and redemption, Tony sings again. Local musician Esteban is also featured in the film.