Interview with George Rivera, Governor of Pojoaque Pueblo
"SantaFe.com sat down with Governor Rivera in his office at Buffalo Thunder for a special interview to talk about his vision for the future of Pojoaque..."
Pueblo is more than just the Spanish word for village; it is the definition of life for Native Americans in northern New Mexico. Pojoaque Pueblo is located in the middle of the Eight Northern Pueblos. The word Pojoaque in Tewa means the "the water gathering place." Pojoaque, with its unique history, is enjoying a progressive artistic modern renaissance. Under the leadership of George Rivera, governor of Pojoaque for the past 20 years, Pojoaque is a place where the past and present meet. Governor Rivera, according to artist Roxanne Swentzell, "has an ability to direct energy and make things happen that is amazing to watch."
A Sense of Community and Vision
The sense of community of life is quietly and consistently integrated into the existence of Pojaoque. Art, the seasons, directions, primary colors, family and culture are the basis for everything Governor Rivera does. The execution of his incredible sense of artistic appreciation makes a visit to the Pueblo, Buffalo Thunder or the Poeh Museum an experience you will not soon forget.
The physical structures of the Pojoaque Pueblo are breathtakingly beautiful. The Tribal Council chamber, designed by the Governor, allows natural light from above to wash the massive stone central pillar and vigas in a soft glow. Every detail of this awe-inspiring room is beautifully thought out. From the fabric covering the council seats, each with its own internet connection, to a massive wood and stone doorway, this room exudes an aura of importance and timeless beauty. In the outer hallway, you will see a light installation incorporating the four primary colors and directions.
The Kiva and Chapel as well as a spectacular bell tower, whose stone pillars are more massive then Stonehenge, have traditional architectural influences of the Chaco culture. The spirit of these structures is a new classical hallmark of Pueblo building of the future. A visit to Pojoaque should not be missed. Stand with one hand touching the ancient rituals and customs of the past and one hand touching the interpretation of those ancient times guiding Pojoaque to its future.
The Visionary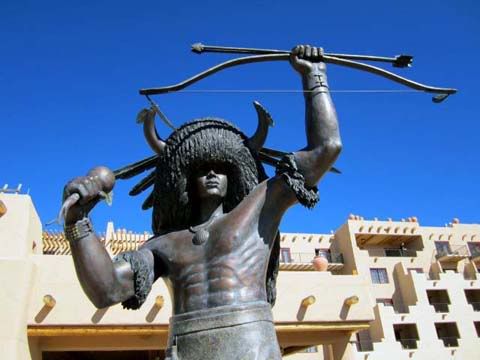 A sculpture by Governor George Rivera

SantaFe.com sat down with Governor Rivera in his office at Buffalo Thunder for a special interview to talk about his vision for the future of Pojoaque.
SantaFe.com: What is your personal family history with Pojoaque?

Gov. George Rivera: Pojoaque…. My great- grandfather was the first to return to Pojoaque in the Indian
Reorganization Act in 1934. The original Pojoaque people had been dispersed to neighboring lands of Nambe, San Ildefonso and San Juan.
SFDC: Throughout Buffalo Thunder your art is evident. Tell me more about this aspect of your life?
Rivera: I went to the Institute of American Indian Arts and the California College of the Arts in Oakland and spent three years at the LaCoste School of Arts in Provence, France. Sculpting is my medium. I came back home to do something for the community in culture and arts. I developed the Poeh and Museum. I am not stuck in time. Focusing on the future is very important to me.
SFDC: You lived abroad for quite sometime. How did Europe influence your thinking?
Rivera: I had the opportunity to study the ancient accomplishments of the Europeans, the cities and architecture. They are committed to who they are, who they were and what makes them unique. I became intrigued by all phases of art. I returned wanting to do something for my community in culture and the arts. I soon became involved in every aspect of the Pueblo and giving my people a better quality of life.
SFDC: So what does a typical day look like for the Governor?
Rivera: "Well there are always financial documents to be signed. We have inhouse attorneys and there are legal issues needing to be addressed. Budget is a big part of my day.
SFDC: I see you have sketch pads and pens on your desk now.
Rivera: Whenever I am in a meeting, I sketch through the entire time. It's easier for me to hear what people are saying.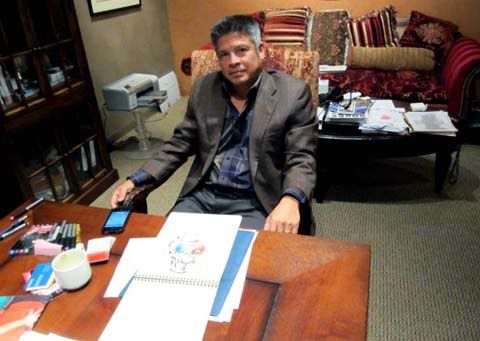 As the Governor showed some of his detailed sketches of a buffalo, he then showed a photo of his translation of that sketch into clay, which would later be cast in bronze
SFDC: At the Poeh Museum, there is a complete sculpture studio. Can you talk about the vision behind this?
Rivera: At the Poeh Center and Museum, our concentration is in the present. We teach and preserve the culture. I was a sculpture teacher there and still maintain a presence with all the students. I am constantly working to preserve the art.
SFDC: How long have you been the Governor of Pojoaque?
Rivera: In my early 20s, I realized the challenge and responsibility I had to the Pueblo. I was Lt. Governor for 13 years and, in 2004, become Governor…so what is that…about 20 years now.
SFDC: What are your short term goals for Pojoaque?
Rivera: Several fronts are important to me. Economic stability, self sufficiency and sustainability. I want to focus on education, all of our students K-12 are on scholarships, preserving the culture for all the tribal members.
Governor Rivera is married with four children aged 20, 19, 3, and 4 months. Truly a remarkable inspirational leader for a time when visionary leadership is what is required, George Rivera knows how to put the right pieces together for the modern Pueblo of Pojoaque. In his words, "I am always looking."