Celebrate the Holidays at The Lensic
"The Lensic Performing Arts Center's holiday schedule is designed to inspire your holiday celebrations..."
Make no mistake, the holidays will be here before you know it. Your opportunity to indulge in traditions unique to Santa Fe is just around the corner. The Lensic Performing Arts Center's holiday schedule is designed to inspire your holiday celebrations with thrilling visual, musical and traditional entertainment consistent with the level of artistic excellence you expect from the Lensic. Choices that make it fun for you to pack up the kids, visit relatives and friends and enjoy a warm and welcoming downtown experience that Santa Feans have treasured for years. In keeping with its sense of community, many of the holiday performances are free.
Traditional Holiday Favorites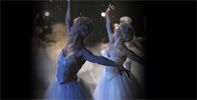 The timeless holiday ballet, "The Nutcracker," returns to the Lensic on Dec. 3 and 4 The Aspen Santa Fe Ballet will perform this traditional Christmas classic tale of toys coming to life. "The Nutcracker" is a Christmas tradition for ballet companies around the world since its debut in December of 1892 in St Petersburg, Russia. Always a memorable Christmas adventure, parts of this ballet, such as the "Dance of the Sugar Plum Fairy," will certainly become treasured memories for you and your family for years to come.



On Nov. 25, 26, and 27, the Lensic presents acrobatics, aerials, fabrics and music when the modern circus, Circus Luminous, takes the stage. This unique, collaborative effort between the Lensic and Wise Fool New Mexico is an annual event. Be mesmerized by stilt walkers, puppetry, highly visual art and a live orchestra playing original music composed just for this event. A Santa Fe Thanksgiving weekend family tradition since 2002, Circus Luminous is a show you and your children will never forget. Get your tickets early as this event sells out every year. Wise Fool New Mexico has a mission to excite your imagination and build strong community ties through hands-on experience in the art of circus, puppetry and theatre. The Lensic has scheduled two free childrens' shows on Nov. 28, again demonstrating the center's sense of community purpose.
December Musical Events




The world-renowned Santa Fe Symphony takes the stage at the Lensic on Dec. 18. Sit back and enjoy an evening of festive, regal classical music. The Symphony's choices for the holiday concert this year offer a program sure to add to your festive mood. This year's program includes The Fireworks and Water Music by Handel, The Shumann Rhenish Symphony #3 by Robert Shumann and the Christmas Concerto by Corelli. The beautiful complexity of classical music as interpreted by the Santa Fe Symphony has given residents of the City Different an appreciation for this genre of music.
On Dec. 19, the Lensic presents The Santa Fe Concert Band, an annual event that has taken place since the Lensic's 1999-2000 Season. The Santa Fe Concert Band, one of the eight original resident organizers of the Lensic's renovation, has been in existence since 1860. Santa Fe native Greg Helton has conducted since 1984. The program is a full Christmas Pops Concert. The Santa Fe Concert Band loves audience participation so be sure to practice your rendition of "White Christmas!" Sponsored by the Lensic Community Outreach Program, this is a fun way for your family or group to get into the holiday spirit and it's free!
Appearing Dec. 24, 27, and 31, The Santa Fe Concert Association presents its annual Christmas show. Established in 1937, the association's mission, led by Joe Illick, executive and artistic director, is to present great music in Santa Fe and to inspire children to have an interest in music. The Santa Fe Concert Association runs an active education program.
Treat yourself and your family to a holiday program of classical music on Dec. 24 and 31, and a special event for Dec. 27. The classical program on Christmas Eve consists of Tchaikovsky's 4th Symphony and Shostakovich's piano concerto. On Dec. 27, the Santa Fe Concert Association hosts Brian Stokes Mitchell, Broadway star of "Man of La Mancha" and Tony Award winner. New Years Eve, Pokofiev's Piano Concert #3 and Beethoven's 5th Symphony are on the program.