An Interview with Jason Hool, President of Santa Fe Studios
"Santa Fe Studios has shown Hollywood that we are major players in finding a viable location for films"
Home to many Western and action feature films, the location and landscape of New Mexico has made the development of the film industry an important part of New Mexico's economy. Financial incentives to filmmakers are among the most competitive in the country. New Mexico offers a 25% refundable Tax Credit, Film Investment Loan Program and Film Crew Advancement Program. These incentives to the film industry are creating jobs for the state of New Mexico. According to Variety, as of June 2010, more than 100 major film projects were produced in New Mexico. Commercials, documentaries, shorts and corporate training films are also beneficiaries of film industry incentives.
Construction of film studios like Santa Fe Studios translates into real income for residents. Stagehands, techs, construction workers and others who work for small businesses see real economic gains when movie projects come to the state.
Institutions of higher learning in New Mexico now offer more programs to prepare students for employment in visual media fields. Northern New Mexico College, Santa Fe Community College, New Mexico State University and others offer degree and certificate programs relating to the film industry. Increased educational opportunities result in new choices for New Mexico's young people who are making career decisions.
Tax revenue in the form of individual and corporate taxes enable the New Mexico state government to realize a return on the loans and incentives provided to film makers. Hotel, restaurant, and shopping revenues increase as a result of filmmakers choosing Santa Fe as a venue for their projects. A major player in bringing projects here is Santa Fe Studios. Located on the south side of Santa Fe in the Media District, this state-of-the-art film and production facility opened on November 7, 2011. Recently, Santafe.com spoke with Jason Hool, president of Santa Fe Studios, about his vision for the film industry in Santa Fe and toured the studio.
SFDC: What is the reason for choosing Santa Fe for this project?
Hool: Globally, New Mexico is the best place to make movies outside of L.A. and N.Y. The film industry has been a huge success story for Santa Fe, and New Mexico in general. In 1890, Thomas Edison filmed some of the very first motion pictures in the "new" New Mexico Territory. Cecil B. DeMille took the train from New York to L.A. He stopped in Santa Fe and loved it, and by chance he continued on to California and went on to establish what is now known as Hollywood. Santa Fe has great light, with over 300 days of sunlight every year, a major factor when considering film locations. New Mexico's extensive days of sunlight cut cost due to weather related issues and… people love to come here!
SFDC: The film industry is your family business, is that right?
Hool: My family are fifth-generation film industry veterans. Originally from Mexico, we moved to Hollywood after a decline in the Mexican film industry. Our family was instrumental in reaizing opportunity and creating a viable film production infrastructure in Vancouver and Toronto. We worked with the State of New Mexico and the County of Santa Fe to bring the magic of film to the Media District here in Santa Fe.
SFDC: What about finding talent and skilled industry workers. Wouldn't that be easier in L.A.?
Hool: Surprisingly, New Mexico has the largest workforce for the film industry outside of L.A. and New York. Education for the film industry is a big concern in New Mexico and Santa Fe Studios wants to be a part of that educational push. We plan on working with students to train them for film industry jobs, and classroom construction is key for Phase Two of our construction.
SFDC: Do you feel legislative incentives is a factor in the growth of the industry?
HOOL: Ten years ago, movie productions in New Mexico were kicked into high gear when then Governor Gary Johnson passed a 15% rebate for the film industry just as he was leaving office. Governor Bill Richardson bumped that up to 25% and over 150 film projects came to the state. Major movies like "No Country for Old Men," "True Grit," "Indiana Jones" and "Cowboys and Aliens" have been filmed here. The landscape, the work force and these incentives have made the film industry and New Mexico a winning combination.
SFDC: Is the physical work on the studio complete?
Hool: The building was begun in January of 2011 and completed in September. We used all local contractors and they were amazing. We employed 300 people in the construction. Santa Fe Studios is the largest building in Santa Fe City and County. We have two 19,275 square-foot sound stages, three floors of production office space for each studio and a 57-acre open back lot where construction of anything a major film production needs can be done. We are ready when "the circus comes to town" in the form of any film project.
SFDC: That is a huge accomplishment. You must be very proud seeing the result of so much hard work.
Hool: We are. The grand opening was held November 7, 2011. More than 20 top Hollywood studio executives from Disney, Sony, Exclusive Media, Warner Brothers and others attended this event. They loved the facility. We are in discussion with a few different film projects. Santa Fe Studios has shown Hollywood that we are major players in finding a viable location for films. We have put together studio space of unprecedented esthetic beauty, functionality and ability to grow. Our plans for the future are ambitious. We believe New Mexico is the place to make films.
"Santa Fe Studios is the largest building in Santa Fe City and County."
Inside one of the two, 19,275 square-foot sound stages.
The green room.
Hair and makeup.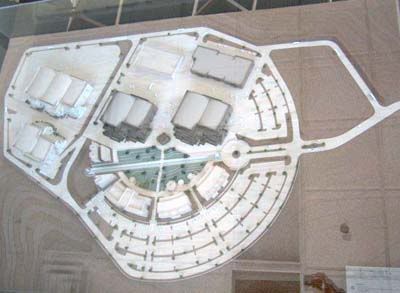 Plans for the future at Santa Fe Studios.
Image of Jason Hool credited to the New Mexico Film Industry Documentary.