"Do you need a super-easy and pretty affordable way to display your place cards? "
So, are you having a rustic, yet elegant wedding in Santa Fe? One that echoes the landscape and muted earthy tones of this altitude? Do you need a super-easy and pretty affordable way to display your place cards? Then, boo-ya, I've got you covered. Check out this no-brainer DIY:
First, you'll need some large, WIDE, bowls. Really, any vessel will do as long as the open surface area is big! For 80 cards I used two 24" diameter bowls and one oblong 18"x 10" bowl. So fill these puppies up with sand and smooth out about one inch from the top edge of the bowl. Then spread a thin layer of pretty polished gravel on top (available at craft stores).
Now time for the cards; we calligraphied a piece of card stock that was 2"x 4" on a vertical orientation. That way, when we stuck it into the sand, there wasn't any writing covered. Placement is the trickiest part because you want the card to be stuck into the sand at the perfect angle so people can read it as they are going to the reception. Be sure to look at it from their point of view to make sure it's legible. Luckily, it's really easy to start over if you mess up.
Now, the fun part; we used these awesome zinc number stencils to designate the table number. Set them artfully in front of your card grouping. If you have more room, you can also use these three-dimensional numbers. Then we placed a few gorgeous succulents to really hint at a desert landscape and bring a little greenery to the mix.
Here is a quick snap from the ceremony where we featured these lovely place card bowls. A late-summer storm tiptoed along the horizon and created quite the backdrop for the vows...it literally started to downpour the minute they kissed and the service ended! Talk about a grand exit!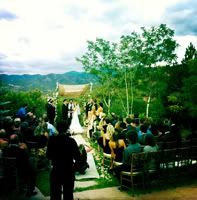 A few more images from the reception...absolutely gorgeous florals designed by Andrea Soorikian.
Calligraphy in top images by Judythe Sieck