Media Rare #9
Though "All My Children" died last September, age 41, still I pine for Pine Valley, PA...despite an outlandish series-ending storyline that resurrected dead characters in a zombie apocalypse, albeit a glamorous one.
Glued to ABC's daytime drama (newspeak for soap opera) for 40 years, I got hooked coming home from school to catch the beginning of a noontime movie while I munched lunch. The half-hour AMC, which had been running for several months, started at 11:30 a.m. As televisions used to be turned up early to "warm up," I'd snag the last few minutes every weekday.
Those few minutes expanded backwards incrementally until, appallingly, I found I knew the characters' names and, worse yet, would ponder their predicaments and tune in the next day. Then the next. Etc. I hadn't yet realized it was a neverending story. When I did, it was too late: The addiction had taken hold.
For as Agnes Nixon, creator of AMC (and its sibling, One Life to Live, itself expiring January 2012) described her philosophy: "Make 'em laugh. Make 'em cry. Make 'em wait." That was me, for four decades.
Over time I personally accumulated AMC novelizations, a trivia game, a commemorative hardcover, special events preserved on VHS, a clippings file, and an autographed script off eBay. Once I even considered moving to Pine Valley, CA, simply because the postmark would be cool.
Obsession, like misery, loves company. When Lisa and I arrived in Santa Fe, I set her in front of the TV in our room at the Ramada at Cerrillos and Siler (now the Adobe Inn) and explained, "I have always watched this. I will always watch it. So here's who's who and what's going on...".
Not to say I caught every episode. In 1977, when the program went to an hour, like a daily double dose, I said to myself, "Enough. I can't spend this much time around these people." That would mean I saw my fictitious friends and neighbors more than my real ones.
Lasted maybe a week, and I was back. And when Betamax debuted at the end of the decade, the agony of commercials vanished through the practical magic of fast-forward. Those guilty 60 minutes shrank to a not-so-egregious 40, if that.
And so it went, for years on end. Oddly, after the millennium's turn, they rather lost me. There was a long boring story arc about switched babies melding AMC and OLTL plotlines. Then they shifted production from New York to L.A., thus drawing from the bland SoCal casting pool instead of the gritty Right Coasters. I retained its VCR timer slot, but it didn't seem to apply any more.
Then came last spring's shockeroo: Cancellation. Now unexpectedly finite, viewing became imperative as the countdown to the 09/23/2011 finale began.
AND THEY BLEW IT!!--with a far-fetched scenario bringing back eons-dead characters--as long as the actors playing them hadn't passed, or, more dreadfully, defected to a rival network.
The only other daytime drama that ever attempted such an outrageous stunt was that paragon of the paranormal, Dark Shadows, wherein if someone died Friday, you couldn't be sure they wouldn't return Monday.
In this case, however, no one was back Monday. That final Friday gathered everyone major and minor in a champagne toast--followed by a gunshot and a blackout. A cliffhanger. On the last AMC ever.
Or maybe not. A streaming-video outfit called Prospect Park proposed reinventing AMC online. A couple of actors have signed on. But Lucci? Not yet. If you ask me, this will never happen.
Just as well.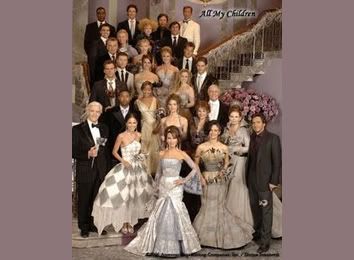 Downfront center is Susan Lucci, who perceptively called her notorious Erica Kane the best part ever written for an actress. The dapper gent in the dinner jacket at the top of the stairs is Santa Fe's Walt Willey, who with wife Marie runs the Crystal Mesa B&B.

Although the theme music changed with the times, the logo's Gothic font was eternal.

The American Broadcasting Company has never been shy about licensing and merchandising products tied to its shows.