America Meredith Stirs Up Santa Fe's Art Scene One Show at a Time
"When she isn't challenging the accuracy of art history timelines, Meredith likes to shake up the art show landscape by curating her own"
America Meredith is an artist, activist, curator and instigator. Since moving to Santa Fe in 2008 and opening Ahalenia Studios, she has helped give face time to some of the city's most creative people--many that you have likely never heard of--while simultaneously curating shows that draw internationally known artists. All the while her own work, influenced by everything from the Bacone school of painting to '60's cartoons to Moundbuilder shell engravings, has continued to receive accolades at juried shows like the Santa Fe Indian Market while being exhibited from here to New York.
An enrolled member of the Cherokee Nation, she is superbly well read when it comes to Native American art history, and regularly writes thoughtful, well-researched blog posts on the topic at ahalenia.blogspot.com. Often, her writing challenges long-held, ethnocentric Western art history notions. For instance, anytime someone says they are the "first" to have done something in Native American art, "Take it with a grain of salt," Meredith says. "You have 20,000+ years of incredible artists on two continents creating amazing art, so chances are it's been done." And, just because it wasn't written down during that 20,000-year time frame doesn't mean it didn't happen. "Western scholars often belittle American Indian tribes for not having a 'written' language but the language and history has been encapsulated in the visual art. Our art history is our history."
When she isn't challenging the accuracy of art history timelines, Meredith likes to shake up the art show landscape by curating her own. Perhaps it's a little of her former bike messenger/union organizer days showing through, but as Meredith says, it's also about doing something yourself when you don't see it being done elsewhere. "My parents curated art shows for the Center of the American Indian back in the '70s and I was one of those kids you see at the reception stealing all the watermelon and cheese. Today, I don't see the shows that I want to go to, so my friends and I have to throw them ourselves. I absolutely believe in the punk rock DIY philosophy. I started curating art shows with bike messengers who are the ultimate prima donnas, so working with actual professional artists is a joy in comparison."
With volunteer helpers in hand, one of the first exhibits she put together in Santa Fe was the 2009 Inner Demons, intentionally timed to open Halloween weekend. Centering on darker themes and subject matter, the show turned out to be a huge success. Now celebrating its third year, Inner Demons III opens with a reception on Friday, Oct. 28, from 6 – 9 p.m. at Ahalenia Studios, 2889 Trades West, Unit E in Santa Fe. The mix of individuals showing their work at Inner Demons this year has become an unofficial trademark of Meredith's shows. Never before exhibited artists will have their work alongside those who are internationally known. Artists who are Native American, Chicano, Latino, and Anglo (and some a mix of all of the above) will come together to share their creative expression.
In 2010, Meredith and Ishkoten Dougi organized Freedom of Information: The FBI, Indian Country and Surveillance to explore the personal experiences of American Indian artists who had been incarcerated, threatened, attacked or spied on by the FBI, but also those who had been helped by the FBI in investigations. It attracted a slew of heavy hitters from the Native American activism arena such as John Trudell, Suzan Shown Harjo and Leonard Peltier, as well as local artists like Teri Greeves and Alex Jacobs.
Going from deeply serious subject matter, like the tenuous relationship between federal agents and American Indians, to something well, just fun and silly like, say, a show featuring erotic cakes, is perhaps what the shows at Ahalenia Studios are most known for. Porncake, which opened in March of 2011, was curated and organized by Santa Feans Sam Haozous, Brandon Williams, Jeremy Gimmey and Meredith and featured, yes, you guessed it, completely edible cakes baked into the shapes of all things, uh, stimulating. Again featuring an eclectic mix of artists, Porncake broke down the hoity-toity barriers associated with many an art show and not only attracted a packed house, but also "celebrity" judges from the local media and art world.
Shortly after this year's Inner Demons, Meredith's work will touch down at the Salon du Dessin et de la Peinture à l'Eau at the Grand Palais des Champes-Elysees in Paris, France (opening November 22) and later at the Tower Gallery in Pojoaque, New Mexico for Doll: An Intimate Figure on November 26. As for upcoming shows at her studio, be on the lookout for Moundbuilders: New Work by Linda Lomahaftewa and America Meredith opening May 28, 2012 showing work inspired by the two artists' cross-country trek to research the Mississippian and earlier indigenous cultures and iconography of the Southeastern Ceremonial Complex.
"When I moved to San Francisco in 1990, there was a community ready for anything...creative and willing to make things happen," Meredith notes. "That's what I feel in Santa Fe now. Wicked talented people with a sense of fun that are willing to try new things."
To learn more about what new and fun things artist America Meredith is up to, visit her website, here. To learn more about Inner Demons III opening Oct. 28 at 6 p.m., visit the show's webpage, here.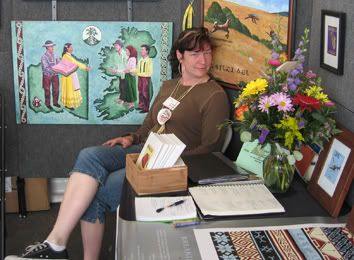 Artist America Meredith at her booth at the Heard Museum Indian Fair and Market.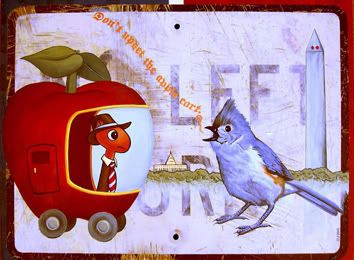 Government Job, acrylic on steel, 18 x 24 by America Meredith



Suzan Shown Harjo reads from her poetry at the opening of Freedom of Information: The FBI, Indian Country and Surveillance



A packed house enjoys Porncake 2011