Kasha-Katuwe: Reaching Cochiti Pueblo's Tent Rocks
"People have lived in this area, according to archaeological research, for over 4000 years..."
I just wanted to show off a bit and get your attention with the exotic name (to Western ears) of Kasha-Katuwe otherwise known as Tent Rocks.
I'd been planning this trip with my friend and neighbor, Devon, for over a week, and today dawned bright and glorious---a perfect day to explore one of the true gems of this area. If you have not been to Tent Rocks, you should put it on your list!
Reaching Tent Rocks, which is part of the Cochiti Pueblo, is an easy 35-mile drive south of Santa Fe. Exit I-25 at Cochiti Exit 264. I'll include the Tent Rock link below which will give more detail.
This was my third or fourth trip here and I have never grown tired of this place, rather to the contrary. The "oohs" and "ahhs" start almost from the second I walk into the site. I've never seen or experienced anything like it. In trying to describe it to my companion for the day, I said, "Imagine a moonscape, or a picture from Mars. It is that other-worldly."
People have lived in this area, according to archaeological research, for over 4000 years. And that's what we know about. It's possible that humans have lived in this area for much longer than that.
Devon and I are both interested in native plants, and her ability to identify these plants, even at a great distance, always impresses me. One particularly attractive plant that caught our attention today, and which neither of us could identify, was bush-like, and resembled a jade plant.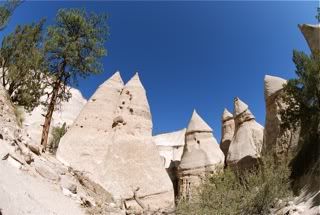 It turned out to be a plant known as Manzanita, used by Native Americans for medicinal and culinary purposes. The name Manzanita, according to Wikipedia, is the Spanish diminutive of the word "manzana", or, apple in English. The medicinal uses of the plant include using the bark in a tea for treating nausea or an upset stomach.
Although one of the park officials (and the brochure for Tent Rocks) said that we could see elk, mule deer and wild turkeys in the area, we saw no trace of these today...except for a small tan snake which quickly escaped our footsteps---mine to be specific! If you're interesting in birding, I would recommend bringing some powerful binoculars. The distances are great and the vistas grand; so if you want to see your feathered friends in any detail, you will need some serious optical assistance. Although, having said that, as we sat at the trailhead enjoying a snack at the end of the hike, we were visited by some finches and another crested bird that I could not identify.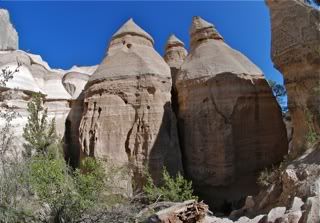 Winter hours:
(November 1 through March 10)
8 a.m. to 5 p.m.
Gates close after 4 p.m.
Summer hours:
(March 11 through October 31)
7 a.m. to 7 p.m.
Gates close at 6 p.m.
Here is the official link:
Tent Rocks
Bring your out of town guests. They'll love this hike.
Thanks for reading and
Happy Trails to You
From Santa Fe, New Mexico
The Land of Enchantment
See many more photos on my blog
Trips and Quips