Radical Jewelry Makeover, Oct. 21-28
"Transforms adornment into activism, one piece at a time..."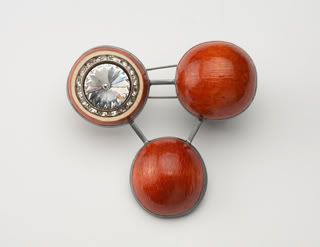 Brooch by Kelly Nedderman from the Radical Jewelry Makeover in San Francisco
Photo Credit: Richard Matzinger
When one thinks of what they can do to live more sustainably, jewelry purchases typically don't come to mind. The Radical Jewelry Makeover, coming to Santa Fe Oct. 21 - 28, hopes to change that.
A fast-paced, week-long project that culminates with an exhibition, the Radical Jewelry Makeover has traveled across the country since 2007, transforming unwanted, donated jewelry into fresh new treasures. A program of the nonprofit
organization Ethical Metalsmiths, the event aims to educate jewelers about mining and material sourcing issues involved in jewelry, while encouraging a careful examination of our habits of consumption. (For example: Earthworks reports that
80% of the gold mined each year is used for jewelry and that the gold mined for a single ring leaves behind 20 tons of mine waste—yikes!)
The project also hopes to draw attention to the creativity and skills of local and regional jewelry designers. Santa Fe's "makeover" jewelry students from the Institute of American Indian Arts (IAIA), Santa Fe Community College, New Mexico
State University and University of Texas – El Paso, as well as professional jewelers including Keri Ataumbi, Jim Cohen, Carla Pennie and David Tsosie Gaussoin (among others) will be tasked with revamping Santa Fe's adornments that are no longer worn. These donations--everything from costume jewelry to gold and silver work—can be made until Saturday, Oct. 15. (Learn more about donating here.)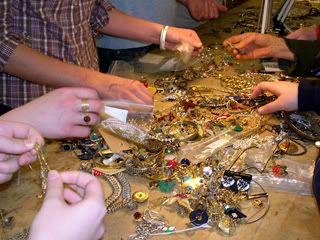 Students looking through donated jewelry for material to use at the Radical Jewelry Makeover Richmond
Photo Credit: Ethical Metalsmiths
Beyond digging through dresser drawers and jewelry boxes to find donations, community members can get involved by attending several free activities that occur as part of the project. A kick-off symposium opens the Radical Jewelry Makeover on Saturday, Oct. 22, from 1 to 5 p.m. at the Santa Fe Community College (Room 216).
On Thursday, Oct. 27 from 2 to 3:30 p.m., a roundtable discussion with international leaders in the ethical jewelry movement takes place at IAIA, and features Santa Fe local Marc Choyt, as well as other jeweler activists Toby Pomeroy and Greg Valerio. The event concludes with an opening reception, celebration and sale on Friday, Oct. 28 from 5 to 7 p.m. at the Wheelwright Museum of the American Indian.
At the Wheelwright, the finished pieces will be on display in conjunction with "Thunderbird Jewelry of Santo Domingo Pueblo," an exhibition about jewelry made from found materials by people at Santo Domingo (Kewa) from the 1920s
to the 1950s. "Jewelers there resorted to using things like discarded automobile battery casings out of necessity," Wheelwright curator Cheri Falkenstien-Doyle said. "Traditional materials —particularly turquoise, which had been depleted by commercial mining companies — were increasingly difficult to obtain at that time."
In thinking about educational programs that would reinforce the themes of the exhibition, Falkenstien-Doyle found the Radical Jewelry Makeover and asked them to come to Santa Fe. "It's a great fit for us — in terms of the kinds of exhibitions we like to do, the message, and the opportunity to collaborate with so many members of the jewelry-making community. We're very excited about it."



"Me Me Me" necklace by Soyeon Kim, from the Radical Jewelry Makeover held in Penland, NC
Photo Credit: Ethical Metalsmiths
The "Thunderbird Jewelry" show is one of many intersections between the Radical Jewelry Makeover and Santa Fe's American Indian community. This, according to Susie Ganch, co-director of the Radical Jewelry Makeover, promises to make the Santa Fe event unique. Ganch said, "Here, we get to work with professional jewelers from the Native American population in Santa Fe. We're really excited for the cultural influence and cross-pollination that can happen. It will be fantastic to have the opportunity to work with a really different, broad range of jewelers in the Santa Fe area."
Miller added, "This is a place known throughout the country for its jewelry. We hope to introduce a whole new group to how they can think about their role as a jewelers or metalsmiths as also having the potential for activism. We hope we can have a tremendous dialogue and conversation with the Santa Fe community about jewelry and the issues of where their jewelry and jewelry supplies come from."
To view a complete schedule of events for Santa Fe's Radical Jewelry Makeover, visit the Ethical Metalsmiths website, here.