"It was as if the gods of snow were giving their thanks and blessing to a die-hard group of snow loving desert dwellers..."
The latest Twitter posts from Ski Santa Fe state that the area would be "ready to hit the ground running" should any substantial snowfall accumulate. Well, accumulate it did, and just in time for opening day.

Ski Santa Fe opened its season to a more than pleased crowd this Saturday with a 21-inch base, which according to some is the best preseason snowfall in the last few years. Although the morning began with only six open runs, a practice called a "soft opening", another two had opened by midday and more were expected to open as the snow fell.
We may be looking at another La Nina year, but opening day at Ski Santa Fe was no sign of a desiccation. Although the lift lines were, in essence, not lines at all but rather small clusters of patrons materializing from time to time, an area employee said the day's turnout was actually, wait for it… "good."
In fact, the general sense of optimism between both patrons and employees regarding the now present winter would suggest quite the opposite of a lackluster season. After talking to several of Ski Santa Fe's operations personnel I came to the conclusion that despite being an inherently "bad" season for snowfall (not to mention somewhat of an inherently "bad" geographic location, being situated smack dab in the middle of a desert), the area management is not deterred in it's mission to provide a top-notch experience to both Santa Fe locals, and visitors.
It would seem the aforementioned Twitter posts were no unsubstantiated claim. When this snowboarder stepped on the scene Saturday, I saw a well-oiled machine that had been preparing for months (and in some sense, years) for this one, perfectly accented, opening day. It was as if the gods of snow were giving their thanks and blessing to a die-hard group of snow loving desert dwellers, which daily assists the rest of us in enjoying that blessing.
Investing in a new addition to the base facilities that is expected to be completed by next year, the ski area will basically double the sizes of the previous rental shop, cafeteria, and ticket offices. A second phase, slated for completion by next season, will add square footage to the current gift shop and food court. The new improvements are meant to expedite the equipment rental and ticket purchasing process, according to Tim Boettler, a long-time employeeand the Retail/Rental Sales Manager, who says the new facility will "really improve our customer service."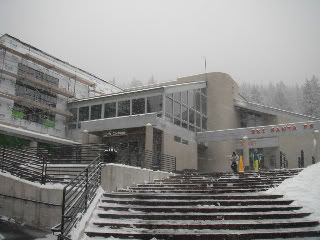 With a 111-inch total snowfall last season, the area was able to open 100%, and this season is expected to be similar, although this weekend's storm may be a sign of things to come.
So while we may not be expecting 200 inches of the good stuff this season, we can at least look forward to the efforts of Ski Santa Fe to help us make the best out of whatever this season does offer.
It would seem all the optimism wore off on me, and after a couple of opening-day runs on perpetually fresh powder and surprisingly well buried obstacles, I too, became convinced that this season, despite its expectations, will be a season to be reckoned with. Although, it never hurts to...
THINK SNOW!!!