President of Santa Fe Community College Announces Retirement
"President Sheila Ortego of Santa Fe Community College is recognized as a trailblazing leader of higher education in New Mexico..."
The President of Santa Fe Community College, Dr. Sheila Ortego, has announced her retirement, come Aug. 2012. Her contributions to Santa Fe's higher education community will be missed and I wish her luck on her continued efforts to see the completion of the Santa Fe Higher Education Center -- an place that will enable residents to earn bachelors degrees while remaining in Santa Fe.
I received the information from the following news release from Santa Fe Community College:
Santa Fe Community College President Sheila Ortego has announced she will retire at the end of August 2012. Now in her sixth year as president of the college, Dr. Ortego told employees of the college today she remains devoted to the mission of SFCC, but faces increasing responsibilities as a caregiver for her elderly mother.
"I am deeply committed to the college, but this is a time I must put family first. I plan to work diligently over the next months to maintain momentum on our many ongoing initiatives and improvements, and I know our employees will carry on their dedicated service to the students and community as always."
Dr. Ortego cited ongoing work to construct the Santa Fe Higher Education Center and the college's continuing efforts to improve performance under the Quality New Mexico model as two priorities she will focus on during the remainder of her tenure as president.
SFCC Governing Board Chair Linda Siegle joined Dr. Ortego at the campus announcement today. She said the board is disappointed to lose Dr. Ortego's leadership, but understands the need for the president to assist her family.
"Sheila is not only a visionary who inspires others, she also takes the visions andmakes them real," said Siegle. "She has guided SFCC toward achievement in academic and career programs and workforce development. She has been passionate about broadening access to higher education for all who seek it, and we greatly appreciate her service over the past six years."
Siegle noted Dr. Ortego's emphasis on building partnerships with business, government and the nonprofit sector has helped SFCC become a more effective resource for the community.
"Establishing the La Familia Dental Clinic on campus in partnership with our Health and Sciences Center has been particularly valuable, both for our students and dental patients on the south side of the city. Dr. Ortego's vision in creating the Trades and Advanced Technology Center has also been extremely successful in connecting students and employers," Siegle noted.
Ortego said she is proud of the college's efforts to advocate for students, especially those who need the most help to succeed.
"We live in a time when students face multiple challenges, and the institutionsthat serve them are under increasing pressures as well. Decreasing funding levels and a tight job market test higher education to find more efficient and affordable ways to help people get ahead. I will continue over the next nine months to work make sure we strengthen opportunities for students to reach their potential, she said."
Ortego has been with SFCC since its founding in 1983. Prior to being named president in 2006, Ortego led the college's top administrative staff as executive vice president, providing management and direction in institutional, strategic and master planning. She previously served as an adjunct faculty member and in many of the college's academic leadership posts, including dean of instruction and division head in various departments. She also served as the initial president of the GROW Santa Fe Community College Foundation.
Siegle said the Governing Board will discuss options for a search process at upcoming meetings. A plan will be announced as soon as possible. She said whatever process is used will emphasize input from faculty, staff, students and the community.
The college was established in 1983 and serves about 15,000 students per year in its credit, noncredit and adult basic education programs.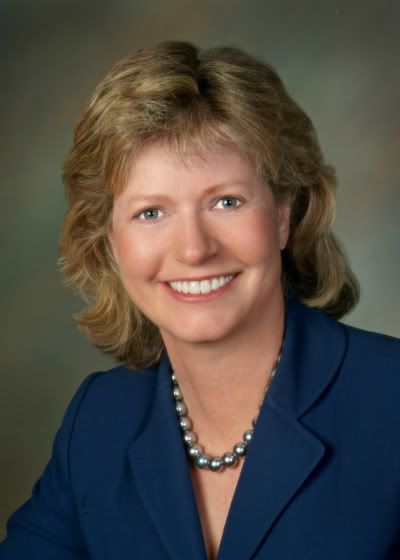 Here is some additional bio information, provide with the SFCC news release:
President Sheila Ortego of Santa Fe Community College is recognized as a trailblazing leader of higher education in New Mexico. She rose to the presidency of the college in 2006 after serving as an adjunct faculty member and in numerous key administrative positions since the institution's founding 28 years ago.
Dr. Ortego's most recent accomplishments at SFCC include:
The successful passage of two bond issues totaling 60 million dollars;

The advantageous upgrading of SFCC's bond rating from Aa2 to Aa1;

Creating a premier Trades and Advanced Technology Center, a state-of-the art facility that provides high-quality technical training for sustainable and green workforce development;

Constructing the new LEED Gold-certified Health and Sciences Center for expanded training in allied health careers;

Improving college-wide systems and processes under the Quality New Mexico model of performance excellence, ensuring continuous improvement in how SFCC serves students and the community;

Gaining state approval for the Santa Fe Higher Education Center under which she established partnerships with bachelor's and master's degree-granting institutions to expand options for local students to seek advanced education;

Instituting academic support programs to significantly improve Hispanic student success;

Attracting tens of millions of dollars in new private and grant funding to the college;

Launching programs subsequently named by the New Mexico Department of Workforce Solutions as the state's only Center of Excellence in Green Construction and Biofuels; and

Developing unprecedented partnerships with local businesses and community members to fulfill the college's mission of serving Santa Fe.
Additionally, Dr. Ortego was named a "Top Performing CEO" by the New Mexico Business Weekly in 2011. On the national front, Dr. Ortego serves as Vice Chair of the National Association of Community College Entrepreneurship. She is an original signatory and active as a member of the President's Campus Climate Initiative, and an inaugural member of the American Association of Community College's SEED Center, which supports community colleges in building the green economy.