Pueblo Feast Days Throughout New Mexico Fill Body and Spirit
"...it's a quintessential New Mexican experience..."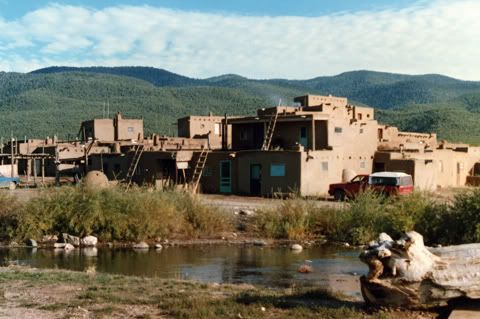 Someone recently asked me to describe what it's like to attend a Pueblo feast day. A simple, but at the same time admittedly incomplete, response from this Land of Enchantment transplant was that it's a quintessential New Mexican experience.
Take Kewa (also known as Santo Domingo) Pueblo's annual Feast of Saint Dominic, held on August 4, for example. One of the larger dances of the year, it's at once a religious observance and a social spectacle. An eclectic mix of art, craft and food vendors greet you as soon as you leave the dusty parking area. On one side, perfectly coiled and hand-painted Pueblo pottery, made with techniques that have been passed down for millennia, is available to purchase. On the other, raunchy t-shirts baring slogans that appeal to wannabe gangsters compete for your attention. Kids dart in and out with snow cone-stained chins, while adventurous adults try a Kool-Aid pickle for 50 cents. Over to the east, the whirling, colorful shapes of a traveling, just-like-you'd-see-at-the-county-fair, carnival break the normally adobe-filled horizon. But before long, it's the sound of drummers and singers that lead you to the heart of the Pueblo's plaza, where rows of dancers hypnotize onlookers with their rhythmic movement and beautifully embellished outfits. It's a place where visitors witness what I like to call a kind of prayer in motion.
If one is lucky enough to be invited in to eat during or after one of the dances, expect to eat well, or more precisely, "eat good," as the Pueblo matriarch will remind you to do as you sit at her table. New Mexican favorites such as chile stews, posole or chicos will be passed around the table. The ever-present oven bread, made in an outdoor horno, and perfect for sopping up red chile, will be shared. Specialties unique to certain Pueblos, like Jemez enchiladas, for example, might make an appearance. Bread pudding (or sopa, depending upon who is asking if you'd like some) prune pies and bizcochitos will likely be offered for dessert.
Sitting down to feast side by side with dancers, tourists and other complete strangers, it can be overwhelming to ponder the generosity of these people who were, not that long ago, treated very badly by the same culture of those who they now invite into their homes. The table becomes an equalizer of sorts, beckoning everyone to slow down and remember what it is to observe, honor and participate in age-old customs, even if they are not your own.
Although there are other year-round dances at the Pueblos, feast days are a custom that honors each Pueblo's patron saint. They are a blend of Pueblo and Catholic traditions and beliefs that Pueblo people took on after the Spanish invaded their homelands. According to Charles M. Carrillo, author of the book Saints of the Pueblos, the Franciscan fathers who missionized New Mexico in the late 16th and 17th centuries named each Pueblo for a different Catholic saint. They were likely chosen for several reasons, "including proximity to a specific date, the devotion of the founder of a mission or the Franciscan friar, or the usurpation of a Pueblo ceremony."
Now that you know feast days are a time of reverence, if you go, remember to leave cameras, cell phones, sketchbooks or any other recording devices at home. While you watch the dances, be quiet. This isn't the time to interview the person next to you about why something is taking place. Don't applaud after a dance, and don't try entering a kiva, or any other restricted area. Enjoy your meal, but don't linger, and thank your host for your meal, but of course don't pay or tip.
In other words, come to a feast with a grateful heart and show your hosts kindness and respect. If you do, I can guarantee that you'll leave with a full stomach and an even fuller spirit.