The Guy Goes Vinyl: Records Make a Comeback
"...albums are actually increasing their share in the marketplace."
Vinyl records are back.
Not that they ever really went away. As compact disc sales continue their decline, albums are actually increasing their share in the marketplace. In fact, 2010 was their best year since 1991, making vinyl the fastest growing format in what's left of the music business.
With this encouraging news in mind, The Guy In The Groove is happy to announce a new retail source for records in Santa Fe. New, used and audiophile albums are now available within Constellation Home Electronics. (Please visit GuyInTheGroove.com. to see all the details.) For 33 1/3 years (coincidence?) I co-owned and operated Flat, Black & Circular (AKA FBC), a used record shop in East Lansing, Michigan. FBC is still thriving, reinforcing the continuing interest in vinyl. It was inevitable that I would continue my passion and enthusiasm for vinyl records right here in Santa Fe. (I'm always interested in buying clean LPs; contact me for details and to make an appointment.)
Following the introduction of compact discs in 1982, manufacturers didn't want to deal with three formats so many of them phased out albums in favor of cassettes and CDs. Retailers likewise were reluctant to devote their investment and space to three versions of the same title. Records never disappeared completely though, as selected new releases were pressed in limited quantities and stocked by smaller, independent music shops. If you wanted the latest Neil Young, Tori Amos or Jack Johnson on vinyl, it was there for the intrepid hunter. Records, including 12" singles and remixes, also were a requisite for club DJs.
Have you hear of Record Store Day? It began in spring 2008 as an annual event to spotlight independent music dealers. Limited edition record pressings are produced specifically for the occasion. There was always a line waiting for FBC to open with offerings such as Sonic Youth's Hits Are For Squares and the Flaming Lips' Dark Side Of The Moon - both pressed specifically for Record Store Day.
Why is vinyl hot again? Do records sound better? Maybe, maybe not, but that's a topic for another blog. LPs offer a real, physical artifact in an increasingly digital world. Size does matter when it comes to artwork and readable lyrics and liner notes. A 12-inch canvas has infinitely more impact than a thumbnail jpeg. We have contact, interaction and a visible show while spinning a record on a turntable. LPs have (re) attained an air of coolness, of retro-hipness. They are the alternative to mainstream conformity. Younger consumers have often inherited a turntable and are discovering a social aspect of recorded music. Clearly, it's a different experience to discuss and share listening to a record than to be self-absorbed under earbuds. And unlike a CD, DVD or cassette, you can't make a record at home!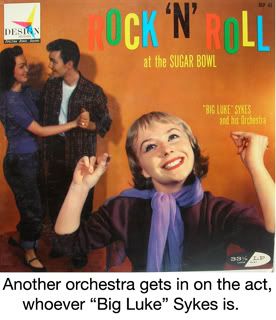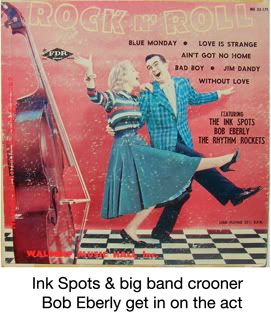 Addenda
The previous blog, Exploitation of Early Rock & Roll, included mid-'50s album covers. Only four images could be displayed so here are four more visual and conceptual non sequiturs.
My first blog was devoted to the Beatles' "Butcher" art album cover, on the initial pressings of their Yesterday And Today release. The notorious image's photographer, Brit Robert Whitaker, died on September 20 at the age of 71. The New York Times obit noted that he had various explanations for the shoot. One version claims he wanted to show the adored group as flesh and blood. Another response was that he didn't have any idea why he posed them in that manner. Despite Whitaker's extensive music photography career, the Butcher Cover image was his most talked-about work.