The Santa Fe Gourmet Classic
"A bike ride with a gastronomic twist"
Here's something relatively new to Santa Fe, The Santa Fe Gourmet Classic. The organizer, Lavi Malhotra, billed the ride as "A bike ride with a gastronomic twist." And, having participated in the ride, I'd say it lived up to the tag line. There were one or two suggestions I would have made, but by and large I'm giving high grades for this event. I'll make those comments further on.
This was only the ride's second year, which started at the old PERA building on Paseo de Peralta. On October 1, 123 riders turned out from all over the country to meet in the PERA parking lot on a chilly morning and were treated to a hot egg and croissant sandwich. That's a good number of riders for only the second year, and it almost doubled last year's turn out. There is talk, however, of limiting the total number to not much more than that.
If you're an appreciator of great food and a lover of the sport of cycling, then this is THE event for you. The ride, while beautiful, is not easy however, due both to its length of 70 miles and the kind of terrain it winds through. Things started out innocently enough, pulling out of downtown and heading past Eldorado into Galisteo. So far so good. In Galisteo, we had our first stop which featured a lemon, coconut bar and spiced cider. I was disappointed to see only one offering of sweet. I would have preferred three different, and smaller, servings which might have created a bit more eye appeal as well. This tray was too monotonous: tan, white and brighter white. The bars were tasty, but quite rich and would have benefited from being smaller. Some table garnishes would have helped the presentation. Frankly, I did expect better.
After that little timeout, the tour made a right hand turn, still in Galisteo, onto Route 41. Route 41 is pleasant enough for a cyclist with nice rollers, and offers some of the prettiest scenery anywhere. The hills are short and manageable for most riders. At the end of the road, there was another snack station consisting mostly of drinks and manned by the cheery and always helpful volunteers. They were dedicated to making sure that everyone was well looked after and safe, and to my knowledge they succeeded on both counts.
Whoever laid out the markers for this course was brilliant. There were multiple bright green arrows sprayed onto the road along the entire route, clearly marking every turn or straightaway. At each snack stop, the volunteers always made a point of preparing us for any changes or turns in the course, so it was impossible to go astray. There was technical support on the road as well, generously provided by The Spin Doc in Eldorado.
The real high point of the tour, appropriately enough, was lunch at The Bonanza Creek Ranch. And it was spectacular, presented by Walter Burke catering. On the menu was fresh ruby trout, grilled right before our eyes, seasoned with herbs and butter. It was elegant, cooked to perfection and the beautiful pink color only made it more appetizing. A peach salsa, cilantro pesto, a rice and corn side dish and a green salad with strawberries and Romano cheese rounded out the main course. But almost best of all was the venue for this meal----luncheon served on the veranda at the Bonanza Creek Ranch. This is a working ranch owned by the Hughes family, and possibly most famous for being the site of many scenes in "Butch Cassidy and The Sundance Kid." And "Butch" is only one of over 40 movies that have been filmed at this location.
The scenery remained beautiful as we left the ranch, but once we pedaled through that section and into the commercial areas near 599, things got ugly fast---and not just in terms of scenery. We found ourselves on a long stretch of bumpy chip-seal road which made me wish I wasn't there. Once we cleared that, we headed into Las Campanas. And while that was scenic, it was mostly uphill, relentlessly so. After a 60-mile ride, this was not welcome and I wish the organizers could figure out another (easier) way to end the ride. But...they more than made up for it with the magnificent trays of fresh fruit and Spanish cheeses that awaited us----indeed worthy of the name "gourmet".
Check out the website for updates and future tours. See you there.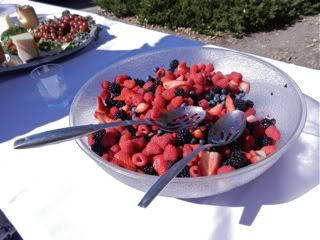 Magnificent raspberries, blackberries and strawberries.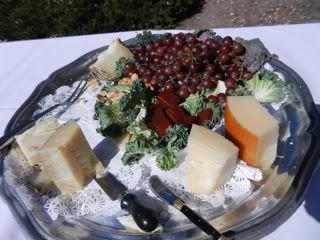 Spanish Cheese, at the end of the trail.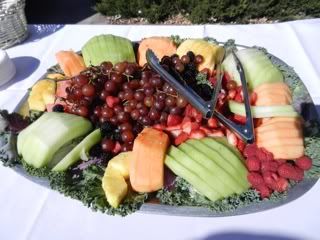 Fruit tray at the end of the ride.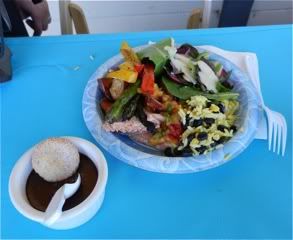 Chocolate/Coffee Ganache with an Anisette Cookie.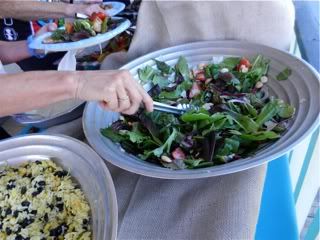 Green Salad with Romano and Strawberries.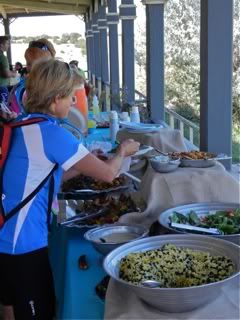 Buffet at Bonanza Creek Ranch.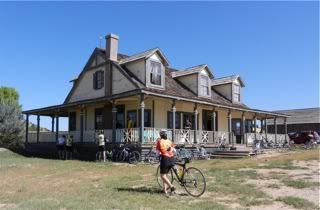 Bonanza Creek Ranch.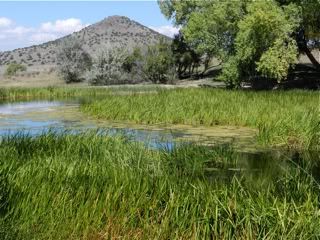 View from the veranda at Bonanza Creek Ranch.