Meet Tortilla Flats
If you want the best Mexican food in town, come to Tortilla Flats, just over four miles southwest of downtown Santa Fe on Cerrillos Rd. There may be several other Mexican restaurants to choose from on this road, but here, you know you're getting the highest quality, authentic food. Whether you're stopping for a quick breakfast or lunch, or want a relaxing dinner after a hard day's work, we have tasty food for the whole family.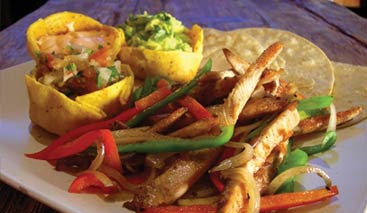 Our restaurant boasts fresh ingredients that are used to make authentic tacos, enchilada sauce that is full of flavor, tortillas that have a classic flavor and texture, and plenty of cilantro. Whether you're coming in for breakfast, lunch, or dinner, you can be sure to find exactly what you're looking for. From huevos rancheros, fajitas and eggs, carnita ranchera, and more for breakfast, quesadillas, enchilada plates, or fajitas for lunch, to red chile pork ribs, shrimp fajitas, or chile relleno plate for dinner, and everything in between come to our Mexican restaurant if you crave these classic dishes.
Just want a drink and a snack for happy hour? Sit in the bar section and experience our Monday through Friday happy hour specials. Find your favorite flavor at our margarita bar and try one of our half-priced bar foods, including ultimate nachos, toquitos, and chili con queso. With ingredients like Jose Cuervo Reserva, or Don Edwardo and flavors like strawberry margarita or blue me
sa margarita, we'll be sure that you aren't thirsty.
Mexican food is the oldest cuisine in the US, so if you want authentic New Mexican food with deep flavors that shows how much love and culture has been put into the food, come to Tortilla Flats. Come for happy hour, lunch, or dinner; every visit you will see how much we care about our customers and our passion for great food.
Please Share!