All the comforts of home. It's a phrase we're all familiar with, but what does it actually take to make our homes feel truly comfortable? Is it furniture, artwork, renovation, or creative use of space? Actually, it's all those things and more. Santa Fe has some of the most innovative artisans and professional technologies available today to remake your home living space to your exact specifications. Looking for some suggestions? Try a few of these on for size.
Is your air conditioner just not cutting it during these blazing hot days of summer? Are you or members of your family suffering from particulates in the air, caused by dust and smoke from ongoing wildfires? Maybe what you need is a new HVAC system. Lucky for you, there's a local business that has your personalized comfort in mind. In business since 1980, Hubbell Electro-Mechanical has been installing environmentally friendly and affordable technology to homes in Santa Fe, and throughout Northern New Mexico, for over 40 years.
Delivering a complete line of compact and powerful electronic control systems that are intelligent, energy-efficient, and quiet, Hubbell prides itself on keeping you and your family comfortable. With a system that is up to 40 percent more efficient than central air, while providing up to eight individual comfort zones, you can personalize the temperature in different parts of your home, while also saving a fortune on energy bills. Even better, the system not only heats and cools your home automatically, but also improves air quality, using a sophisticated multi-part filtration system to reduce dust, mold, and allergens. Make note of all they have to offer on their website.
Looking to spruce up your kitchen, bathrooms, and those drab walls and floors? Statements In Tile/Lighting/Kitchens/Bathrooms/Flooring pretty much does it all. With an extensive line of improvement options, Statements provides limitless design possibilities, whether you want an old-world feel, or the most contemporary look possible. But it doesn't just stop at utilitarian improvements. Hand-painted murals, custom reproductions of artwork, and handmade light fixtures are created with your needs in mind by artisans on the cutting edge of creative beautification. Check out their website, or visit their showroom, for more details.
Another brilliant renovation and design option is Allbright & Lockwood, specializing in both old-world charm and contemporary innovation, with a product line that includes ceiling and wall fixtures, lamps, fans, both indoor and outdoor tile, and more. Exceptional flourishes are their bread and butter, turning a special personal space into a spectacular showroom. Art patrons in particular find much to appreciate about Allbright & Lockwood's technical and aesthetic know-how when it comes to lighting an art collection. Their creative professionals can give your painstakingly acquired possessions a museum-quality atmosphere without sacrificing comfort and livability. Give their website a look and see for yourself.
Are you ready for a whole new look? Out with the old and in with the new? It may be time to put your design needs into the hands of professionals in interior design. Inspired Living Design adds a personal touch to your home, bringing composition, attention to detail, and your distinctive point-of-view into focus to create unique, one-of-a-kind improvements with nobody but you in mind. Specializing in creating synergy through the redirection of energies, the implementation of Indigenous influences and cross-cultural components, and placement with comfort in mind, Inspired Living can transform your home into the living space of your dreams. Pay a visit to their website for more information.
But let's say you'd like to pick your own furnishings. You envision something with an emphasis on antiques and custom furnishings, perhaps a "sophisticated rustic" look. What some pundits like to refer to as Santa Fe style. If so, Mediterránia has just what you're looking for. With the largest selection in Santa Fe of Southern European antiques, hand-carved Spanish colonial reproduction furniture and accessories, including everything from ceramics and candlesticks to chairs, chests, and credenzas. Mediterrania also has the largest  selection of Uriarte Talavera pieces in the U.S. Give your living space that wonderful old-world feel and surrender yourself  to the timeless comforts of a classic Mediterranean home. Check out what Mediterránia has to offer on their website.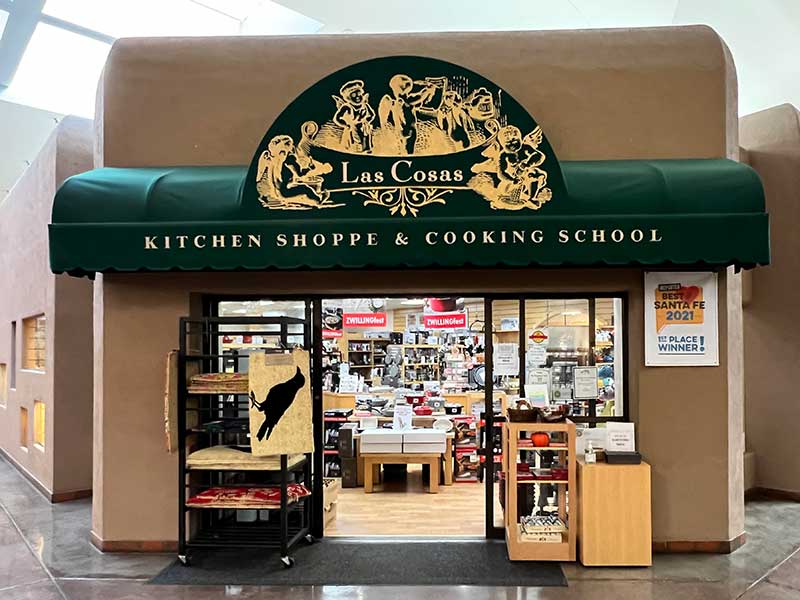 They say your kitchen is the hub of activity in any home environment. Don't skimp on the accessories. Trade in that old toaster and dishware for something exciting and new. Las Cosas Kitchen Shoppe & Cooking School offers the best combination of quality and value in kitchen, table, and barware in Santa Fe. No matter what statement you're trying to make — whether it be chrome and enamel shine or vintage Italian and Portuguese flourish — you'll find something to love at Las Cosas. Like a candy store for cooking aesthetes, there are so many different styles, colors, and gadgets to choose from, you'll wonder how you ever got by without them. See the amazing selection on their website.
There is absolutely no reason why your living space can't reflect the real you. It's your home, after all, why shouldn't it be exactly what you need? Comfort and style can go hand in hand.
All you need to do is allow the professionals to help you realize your dreams. Before you know it, your house will become a reflection of your soul, and a home to be proud of.
This article was posted by David Salcido