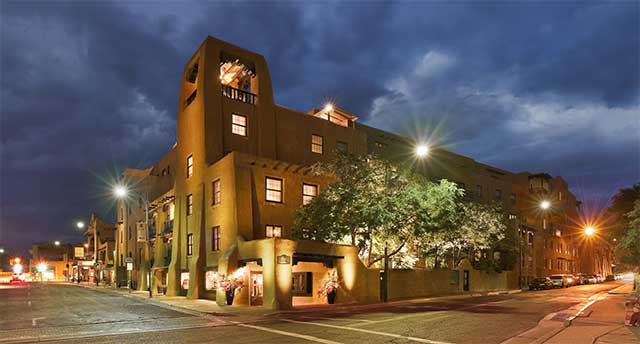 Meet La Fonda on the Plaza
La Fonda on the Plaza, a Santa Fe, New Mexico, hotel, is the premier place to come stay in this historic city. It offers well-appointed rooms and stylish architecture
LA FONDA'S CENTENNIAL SPEAKER SERIES
Bridge to the Atomic Age: From Los Alamos to the House at Otowi Bridge
July 8, 2022
2 – 4 p.m.
La Fonda's Lumpkins Ballroom
This program in La Fonda's Centennial speaker series will offer, first, a broad perspective on the lives and work of the scientists at Los Alamos who created the atomic bombs that ended World War II. In the second half there will be two speakers with personal histories of the Manhattan Project and two filmmakers pursuing a project on the life of Edith Warner, whose house at Otowi Bridge served as a link between ancient communities and the scientists ushering in the atomic age.  The free La Fonda program is July 8, 2022 from 2 to 4 pm in the hotel's Lumpkins Ballroom.
Ellen Bradbury Reid, who grew up at Los Alamos as the daughter of a Manhattan Project engineer, will recall encounters with Robert Oppenheimer, scientific director of the project. She shares unique perspectives of a youngster's life within the confines of the closely guarded community. Reid, who knew Edith Warner personally, operates Recursos de Santa Fe, providing tours and programs on the city's unique history.
Also on the program is professor and historian Dr. James K. Hopkins. He will provide overall historic perspectives as the backdrop for his own personal story – his father was Group Operations officer of the 509th Composite Bomb Group and helped plan the missions against Hiroshima and Nagasaki. He was the pilot of the photographic plane on the Nagasaki attack. Dr. Hopkins is Altshuler Distinguished Teaching Professor Emeritus at SMU, where he taught at its campus in Dallas and in Taos.
In the second half of the program, filmmakers Bruce Gelfand and Alton Walpole will discuss a movie project on the remarkable life of Edith Warner and her importance to the scientists at Los Alamos. She moved to New Mexico in 1922 for her health and took a job as stationmaster at Otowi Bridge, close to Los Alamos. She had met Robert Oppenheimer during one of his several trips to Northern New Mexico before World War II. When he became the scientific director of the Manhattan Project, he remembered her hospitality and home cooking. As a break from the stress of the project, he allowed senior scientists to enjoy meals at her house. Reservations were necessary and wait lists were common. But Warner was much more than a hostess in humble surroundings.
Gelfand, a writer, and Walpole, a local producer, will discuss the impact of Warner and their plans to make her story into a film.
"It is amazing that a woman who ran a little tearoom at the isolated Otowi Bridge became so important to the men and women at Los Alamos," said Gelfand. "Miss Warner's little adobe house was a source of fresh food, thoughtful discussion, and much more."
Sponsors are the Santa Fe Independent Film Festival, La Fonda on the Plaza and Recursos de Santa Fe
Please Share!