New Mexico is known for many great things and being home to some of the most enjoyable ancient hot springs in the world is one of them. You can find these healing waters all over the state. Check out where to soak in New Mexico below.
Note: Some areas are clothing optional (nude), and some require bathing suits. Please check ahead.
Where to soak in New Mexico
Ojo Santa Fe Spa Resort
Ojo Santa Fe and its spring-fed waters have been attracting locals and travelers seeking rest and respite for centuries. In ancient times, early inhabitants were attracted to the waters for nourishment and ceremonial purposes. During the Spanish era, Ojo Santa Fe was known as Los Ojos del Alamo, a paraje or stop along the Camino Real trail, providing a place for weary travelers to rest, bathe, and enjoy a meal. Today, you can reconnect with nature at this globally acclaimed resort and spa that offers gently heated spring-fed hydrotherapy via an all-day public soaking pass, private pools, tubs for one, and even a saltwater swimming pool. Ojo also offers overnight lodging, farm-fresh cuisine, and an award-winning waterside spa.
877-977-8212
ojosparesorts.com/ojo-santa-fe
242 Los Pinos Road
Ojo Caliente Mineral Springs Resort & Spa
The iconic Ojo Caliente Mineral Springs has re-opened after undergoing repairs and renovations featuring facility improvements and brand-new locker rooms and spa amenities. Guests can book all room types as well as enjoy spa services and yoga classes by appointment. Enjoy the Main Bath House with a eucalyptus steam room and dry sauna, the newly re-appointed Historic Bath House (dating back to 1868) with a private spa lounge, and Himalayan Salt Sauna. Ojo Caliente's day soaking is open to the public with no reservations required. After a long day of relaxation and healing, stop by Artesian Restaurant for farm-fresh cuisine, or book a signature treatment at the award-winning spa.
877-977-8212
ojosparesorts.com/ojo-caliente
50 Los Banos Drive
Ten Thousand Waves started as a small bathhouse in 1981 with a few hot tubs and one massage room. Today you can enjoy newly converted bathing environments each with its own self-contained hot tub, sauna, and a private changing room and showers. The property's design and philosophy are modeled after Japanese spa culture which creates a calm and relaxing atmosphere. Soaking in the Grand Bath is complimentary for spa guests receiving treatments and overnight guests who also get priority for spa and private hot tub reservations. Reserved community soaking is now available Monday – Thursday. You can deepen your spa experience with transformation retreats such as guided ketamine journeys for individuals and groups.
505-982-9304
tenthousandwaves.com
21 Ten Thousand Waves Way
Montezuma Hot Springs
Also referred to as the Las Vegas Hot Springs, this healing location was considered sacred ground to Indigenous tribes of the area. It is said that Billy the Kid even soaked here. In the late 1800s, the springs were a big part of the Montezuma Hotel's draw. Today the bubbling spring water is captured in outdoor cement pools that remain long after the closing of the hotel. United World College, the property in which the springs are located, allows free public access and maintains the pools.
505-454-4200
State Route 65, Montezuma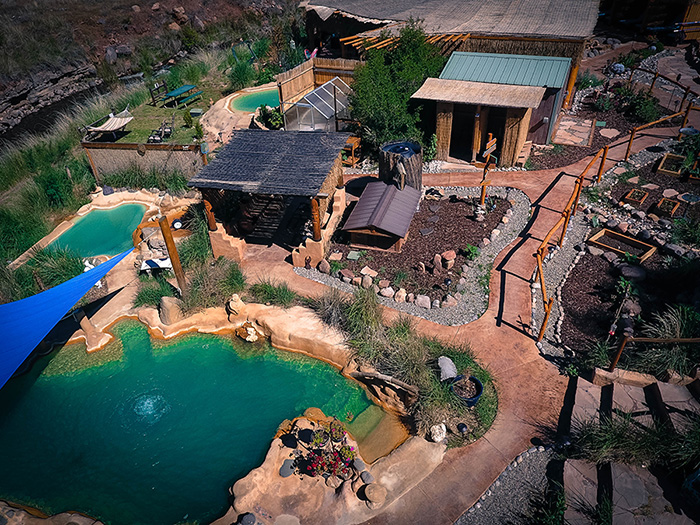 Jemez Hot Springs
Take a moment to pause and reset at Jemez Hot Springs. Bring a friend or come alone to savor the stunning blue water and breathtaking natural scenery. With four pools of varying temperatures, all featuring therapeutic, odorless mineral water maintained at a comfortable 101–105 degrees Fahrenheit, you're sure to find your happy place. The views of the surrounding mesa charm visitors in any season. Headed to the mountains for the weekend? Stay on site in one of their recently refreshed, cozy cabins just a few yards from the springs.
575-829-9175
jemezhotsprings.com
40 Abousleman Loop, Jemez Springs
Jemez Springs Bath House
The Jemez Springs Bath House, a state historic site, was one of the first structures to be built in what is now Jemez Springs between 1870 and 1878. Today, visitors can enjoy the healing waters for half or a full hour in eight private rooms with cement tubs. Swedish and deep tissue massages are available as well as body wraps.
575-829-3303
jemezspringsbathhouse.com
62 Jemez Springs Plaza, Jemez Springs
Hot Springs of Gila Wilderness Area 
Faywood Hot Springs
Faywood Hot Springs Resort, located between Silver City and Deming, is described as a "geothermal high-desert oasis." This location has been used for its healing waters for centuries. With 13 geothermal pools above 100 degrees, six cozy cabins available for overnight stays, and a campground with full hookups, it truly is an oasis. Soaking is available to guests with overnight reservations only.
575-536-9663
faywoodhotsprings.com
165 Highway 61, Faywood
Gila Hot Springs Ranch
This river campground, about 40 miles north of Silver City along the banks of the beautiful Gila River, has been privately owned and operated by the Campbell family since the 1940s. Gila Hot Springs is the original site of an old ranching community settled in the 1880s. Today, you can bring your small self-contained RV or even a tent and enjoy the healing waters. Just here for the day? Day use of the hot springs is available. The property has three pools that bubble out naturally. Temperatures range between 147 and 154 degrees.
575-536-9944
gilahotspringscampground.com
3778 Highway, Mimbres
The city of Truth or Consequences, lovingly nicknamed "T or C," has been a hot spring hot spot since the time Apache leader Geronimo and his people inhabited the land. And it still is with almost a dozen locations offering hourly soaking and overnight lodging. Before colonization, Indigenous people would soak here, and archaeological evidence suggests ancient Mimbres people called this area home. It is believed the land was considered a sacred neutral healing ground, and warring tribes would come to this area, where no weapons were allowed, to tend to their wounds or pains.
The hot springs that exist today are the result of a 50-million-year-old rift that appeared along the Rio Grande, causing a fault line that allowed groundwater from deep in the earth to flow to the
surface without losing its minerals or heat. The hot spring water in T or C contains high concentrations of about 40 different beneficial minerals. The most important mineral found in this crystal clear and odorless water is chloride, a germ killer that naturally sterilizes the water and your skin.
Today, this sacred land is home to a small New Mexico city where visitors flock to experience these wondrous and healing hot springs.
Artesian Bath House and Trailer Park
Artesian Bath House has been operating since 1930 and has been locally owned by the Martin family for more than 30 years. The location acquired its name from the artesian wells that supply the hot spring water. Artesian wells are pumpless wells that allow water to defy gravity by traveling to the surface through porous rock. There are private ceramic fill-and-drain tubs that are available by the hour. Sixty- and 90-minute massages can also be booked pre- or post-soak. RV spots with or without electricity hookups can be rented nightly, weekly, or monthly.
575-894-2684
sites.google.com/siteartesianbathhousenm
312 Marr St.
Blackstone Hotsprings
Blackstone was originally built in the 1920s and underwent a major remodel in 2006. The four baths on the south side of the property were rebuilt directly over the footprints of previously existing soakers from the property's motor court days. Three outdoor baths are available to reserve by the hour for overnight and day guests. The 11 restored lodging rooms each feature private in-room hot springs for guests to enjoy anytime during their stay. Each room is cleverly designed with inspiration from classic shows and films like Star Trek, The Jetsons, Wonder Woman, The Twilight Zone, and more.
575-894-0894
blackstonehotsprings.com
410 Austin St.
Charles Motel and Spa
The motto of this historic hot spring location is "rest and healing." The mineral-rich spring water is pumped naturally through the wells as it has for decades. Seven rooms are available for lodging that all come with daily access to the mineral springs. The single art deco tubs are original to The Charles and perfect for solo healing. The rooftop tubs are a must-try with your significant other or a group of friends. They boast gorgeous night views and some even have jets to elevate your experience. Soaking is included for all overnight guests and is available at an hourly rate for other guests.
575-894-7154
charleshotspringsresort.com
601 N. Broadway St.
Firewater Lodge
This rustic hideaway located in the heart of the Historic Bathhouse District features eight artisan rooms each with a private geothermal tub that reaches 108 degrees. This quaint 1920s restored motor court lodge embodies the true charm of the Land of Enchantment. The guest rooms surround a garden courtyard with seating areas and a fire pit for the perfect post-soak cool down. Hot springs are only available to lodging guests.
575-740-0315
firewaterlodge.com
311 N. Broadway St.
Hot Springs Glamp Camp
Hot Springs Glamp Camp is T or C's newest hot spring destination for the adventurous traveler. Choose from unique lodging options like a vintage Airstream, yurt, or even a brand-new dome! You can also reserve a space for your own camping setup whether it be a tent, van, or RV. Relax and soak in one of their steel hot spring tubs. Two of them are outdoor semiprivate springs and are perfect for solo soaking or for couples. There is a larger outdoor spring to accommodate groups. The jetted tub in one of the bathrooms is also hooked up to the mineral-rich water creating an indoor soaking option. Enjoy the outdoor seating area and firepit under the starry New Mexico sky. Soaking is available to lodging guests 24/7 and operates on a first-come-first-served basis with no time limits.
575-740-6775
hotspringsglampcamp.com
675 S. Foch St.
Indian Springs
One of T or C's oldest bathhouses features two hot springs for guests to enjoy. These historic baths that you can still enjoy today were built in 1927 from mostly natural materials like wood, redwood, and lava rock. Lodging guests get two included half-hour soaks per day and walk-in guests are welcome on a first-come-first-served basis at an hourly rate. Rooms are available for nightly, weekly, and monthly stays.
575-894-2018
218 Austin St.
La Paloma Hot Springs & Spa
The oldest hot spring location in T or C features two historic bathhouses (built in 1919 and about 1925) and outdoor pools. What sets La Paloma apart from most other bathhouses with mineral baths is there are no pumps or pipes, only genuine, natural-flow artesian springs. Once they are staffed to officially reopen, soaking will be offered by appointment only. There are 14 lodging options available. Four spacious suites are available, each providing two bedrooms, a full kitchen, a living room, and a dining room. The Cottage is another option with two bedrooms, a full kitchen, and a private patio. You can also choose one of the nine cabin-type rooms. All lodging at La Paloma is air-conditioned.
In the past, La Paloma has worked with local therapists to provide guests with treatments like reiki, facials, tarot readings, acupressure, deep muscle therapy, craniosacral therapy, cupping, Swedish massage, Shiatsu, lymph drainage, pre-and postoperative therapy, prenatal massage, couples massage, foot massage, reflexology, and geriatric massage.Once fully reopened, spa services will be again available by appointment. Currently, lodging is available by making reservations online and in advance. Soaking in the living waters is included with your stay.
575-894-3148
lapalomahotspringsandspa.com
311 Marr St.
Pelican Spa
This colorful escape offers included soaking to hotel and spa guests. There are 32 lodging options spread out over five buildings. Pelican Spa features private indoor Japanese-style cement tubs that are poured fresh for each bath and run a comfortable 105 degrees year-round. Day guests may reserve the hot springs for 30- or 60-minute intervals.
575-894-0055
pelican-spa.com
306 S. Pershing St.
Riverbend Hot Springs
Riverbend is a desert oasis like no other. Located right on a bend of the Rio Grande, guests can enjoy magnificent views wherever they choose to soak. Lodging is available on-site and overnight guests get free and unlimited soaking in the public pools during hours of operation. Riverbend has seven private springs that overlook the Rio Grande, two of which are above ground for those with mobility limitations. These are available to reserve for an hourly rate seven days a week. The newest additions to Riverbend are the casitas. Both casitas have their own private hot spring that can be enjoyed 24/7. RV spaces with soaking access are also available at Riverbend.
575-894-7625
riverbendhotsprings.com
100 Austin St.
Sierra Grande Lodge & Spa
Built in 1929, this historic hot springs locale offers 17 guest rooms and a two-bedroom standalone casita. Amenities include a full-service restaurant, tours of Ted Turner's neighboring reserves, private indoor and outdoor soaking pools, and holistic wellness services at The Spa at Sierra Grande. Services include curative massages, body treatments, European facials and skincare, and bodywork enhancements. It is the ideal retreat location for couples, friends, and even solo travelers. Soaking, spa services, and The Restaurant are available to hotel guests and the public, with reservations.
877-288-7637
tedturnerreserves.com/sierra-grande
501 McAdoo St.
A few more interesting facts about New Mexico Hot Springs
That Pleasant Aroma: Just where does that odor come from that reminds us of rotten eggs and clears your sinuses better than nasal mist? The smell is a result of H2S (Hydrogen Sulphide), a gas similar to natural gas. It results from anaerobic bacteria converting some of the dissolved sulphur in the water to H2S. The presence of H2S indicates that the water has penetrated to great depths.
And another thing: Like most mountain environments, hot springs support an abundance of life even long before they reach the surface. Once the springs surface, again — they offer opportunities not found elsewhere. The warm water allows an abundance of algae and bacteria to live. Some species of creatures survive only in the outflow of springs. The warm water also allows an abundance of life surrounding the waters to survive, as well, creating microscopic worlds. Certain plants, reptiles, and amphibians only survive adjacent to these warm runoff channels. It's a world unlike any other area of the mountains.
Story by Olivia Belcher | Courtesy photos
Originally published in Neighbors magazine.
This article was posted by Cheryl Fallstead